I had a heck of a time getting Kitsune and Fenrir licensed recently!  Since we moved, I had to get their licenses for the first time in our new town.  Thanks to Covid protocols, many municipalities are moving more towards completing business, such as dog license renewals, online.  Normally that's something I'd be all for – getting stuff done without having to leave home or talk to anyone!?  Awesome!  However, technology doesn't always work as smoothly as we would hope.  What should have taken me a few minutes online ended up taking over a week, multiple emails, and a few phone calls (eww) to straighten out.  Thankfully, after all that, Kit's and Fen's 2022 licenses/tags finally arrived in the mail last week.  Despite what a pain it ended up being to get my dogs licensed this year, I'll still continue to license them yearly!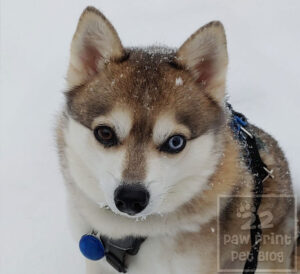 Fun fact – Fenrir is officially the first Alaskan Klee Kai to ever be licensed in our town!
So what, exactly, are dog licenses anyway?
In many cities and towns throughout the US, it's a law for dog (and sometimes cat) owners to obtain licenses for their pets yearly.  Licenses help municipalities keep track of what animals live where, and ensures that pets have received appropriate vaccinations.  In all the places I've lived, I've had to prove that my dogs are vaccinated against rabies to license them.  Rabies is essentially 100% fatal to both people and pets.  It's easy to understand why it's important to prevent its spread!
When you license your pet, you'll usually receive an ID tag with a number on it to hang on your pet's collar.  I've personally made it somewhat of  a game to attempt to get as low of a number each year as I can.  This year my plans were kind of foiled, though, thanks to the trouble I had getting my boys' licenses online.
Most pet owners probably know they have to license their pet to follow local laws, and that it's an easy way to prove that your pet has been vaccinated.  But did you know it provides other benefits to pets and the people who love them?
How Does Licensing Your Pets Benefit You?
Licensing your pet helps you avoid fines and fees.
Luckily, dog licenses are usually pretty cheap.  In the town I'm currently in, I paid $7.50 for each of my (neutered) dogs.  You know what's a lot more expensive?  Late fees and fines!  Most cities/towns that require dog licenses also have a system of late fees and fines that are charged to owners' who don't license their pets, or who license them late.
Getting away with paying these fines isn't always as easy as one might think.  Did you know that it's common practice for veterinarians to send your pet(s) vaccination records to the town hall where you live?  More often than not, town officials will know you own a dog even if you don't report it yourself.  If they have any record of you owning a pet, and you don't get said pet licensed, you'll more than likely get stuck having to pay a fine and/or late fees.  Just get your pets licensed on time – it's cheaper!
Remember that ID number I mentioned before?  Your dog's ID number on his/her tag ties them to your information in your town hall's system.  So, much like other types of ID tags, if your dog goes missing and ends up in the local police station or shelter, employees can use your dog's license ID to look up your information and get your pet back to you as quickly as possible.
A dog license can serve as proof of ownership.
If there's ever any doubt as to who owns an animal, the benefit of the doubt will usually go to whoever can prove that said pet is licensed under their name.  If you watch enough court TV, you can probably think of examples where this would come in handy.
License fees help support animal shelters and services in your local communities.
Have you ever wondered what your town does with all the money they make from selling pet licenses?  In most cases, these small fees are added together to help support local animal shelters, animal control, and services in your local community, such as low cost (or free) vaccine clinics, and low cost spay and neuter services, to name a few.  By licensing your pet, not only are you benefiting yourself and your own pet, you're helping other animals and the people who love them in your community as well!
Dog Licenses Can Be Fun!
I always kind of like getting Kitsune and Fenrir licensed each year, even after how much of a pain it was get it done this year.  It makes me feel like I'm doing my part to keep my own dogs and my community safer.  Plus, getting new tags for the boys' collars each year is kind of fun!  I've kept every license tag that my dogs have had inside notebooks with their medical records.  Especially now that we've lived in a couple different places, it's fun to look back at all their old tags.  Am I just weird?  Probably, but that's ok.
Comment below!  Do you remember to get your pet licensed every year?  Does your town have cute/fun tags or boring ones?  The last town we lived in had super cute license tags, in fun shapes and colors.  The tags we got this year, the first in our new town, were kind of plain/boring, but maybe we just caught them in an off year.  Thanks, as always, for reading!  You guys/gals are awesome.  Now get off your computer and go play with your pets!