Moving can be stressful.  It's one thing for the people involved, who understand what's going on.  It's quite another thing for our pets, who have their worlds turned upside down with no understanding as too why.  Moving prep, and the actual move are stressful in themselves.  When they're over most people want to, finally, be able to relax in their new home.  Your dog, however, will probably require some time to adjust to their new home!
This article was originally posted on October 22nd, 2019.  It was edited and reposted on September 1st, 2022.
In late 2019 my little pack and I moved a bit over 300 miles, from the apartment we had spent 10+ years in to a house in the country.  It was the first time I had ever completed a move with dogs.  My papillon, Kitsune, was 10 years old when we moved.  I worried a lot about how he'd adapt to all the changes ahead.  Not only the new house, but also the fact that we were moving from a bustling city to a very small town.  How would my city dog deal with our new, country lifestyle?
A big adjustment!
Thankfully, both of my dogs did end up adjusting pretty well.  It's amazing how adaptable even older dogs can be.  Not unexpectedly, the first couple of days in our new home were the roughest.  Kit especially seemed a bit stressed, and confused.  It didn't take too long for both of my dogs to settle in, though.  I can't say  for sure whether or not Kit misses all his old city haunts.  But what I can say is that he loves having a yard to run around in, spending more time outdoors, and having both of his humans working from home!  After a very short adjustment period, both Kit and Fen seemed to be very happy in our new home.
Here are some tips I utilized to help my dogs' adjustment period go as smoothly as possible…
First and foremost, keep your pets safe!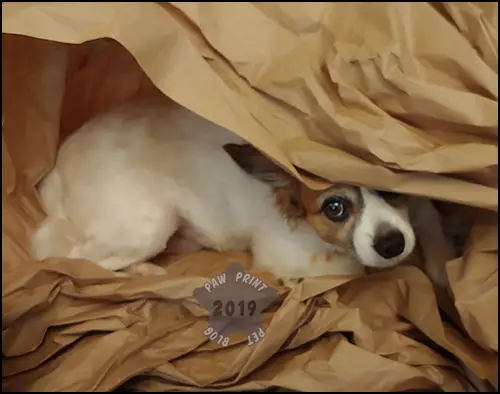 Being in a new place for the first time can be scary, and some animals cope with fear by running away from it.  If your new yard is fenced, make sure to check it over before counting on it to keep your pet contained.  Otherwise, dogs should be kept leashed when outdoors, at the very least until they become more familiar with their new surroundings.  Pet proof your new place before giving your pet free reign.  Make sure there's nothing dangerous he/she could get into.  Keep current forms of ID on your pets as backup in case they get loose.
Give Fido the grand tour!
When you're ready to introduce your pet to his new home, give him a tour of the place.  Show him where important things are such as food and water bowls, a comfortable spot to relax in, and the place you'll expect him to use the bathroom.  Knowing where all the important things are can go a long way towards helping your dog adjust to their new home.
Be patient with your pet as he/she learns the new layout.  Kit, my older dog, got lost a few times in our new house.  He would go downstairs to get a drink, then forget, in the dark, how to get back to the bedroom.  During our first week here I had to go downstairs and 'rescue' him a few times.  I'd just calmly lead him back to the bedroom.  After about a week he seemed to be much more familiar with the new place, and hasn't gotten 'lost' since.
Stay with your pet(s) as much as possible.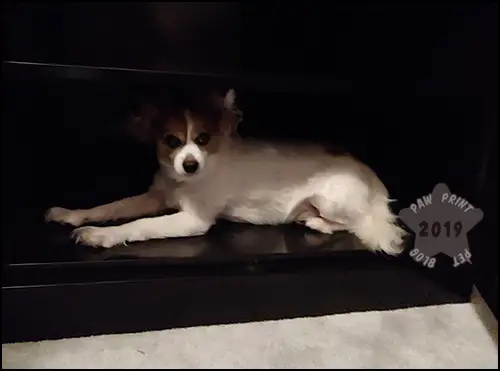 At least at first.  When you move, you uproot so much of your pets' life, it's comforting for them to have you around.  My fiancé and I are very lucky to both be working from home now.  If you don't have that luxury, take some time off (if you can) right after the move.  You don't necessarily have to do anything special.  Just be there for them so they don't feel alone in a place they are unfamiliar with.
Give your pets a bit of a free pass.
Accidents happen!  Your dog may need time to adjust to their new home before they figure out where they are supposed to go.  Have patience with pets when it comes to learning things like where they are supposed to go to the bathroom.  Depending on your pet, a bit of retraining may be in order.  And that's ok!  Especially if you're pet is an adult and was potty trained before, they should catch on to the correct place to go in no time, with just a bit of help from you.
Stick to a routine, and make changes gradually.
Right after we moved I noticed that Fen was having accidents, but he'd only have them around the times that I used to take him out for walks.  I realized that I had tried to change his schedule too quickly, without giving him and his body much time to adapt.  Once I got him on a schedule that more closely resembled the one he was used too, the accidents stopped.  Changing your schedule after a move is ok, and usually (I think) expected, but do it as gradually as possible so your dog has time to adapt.
Get plenty of exercise.
This is another one of those times when walking the dog might be low on your list of things you want to get done.  There's so much to unpack!  But a mentally and physically exercised dog is a better behaved dog, which is amazing when you don't want Fluffy to take unpacking into her own paws (jaws, should I say?).
Make your new home a positive place for your pets to be.


Have fun!  Do things your pet likes to do – Play ball, give them puzzle toys or stuffed Kongs, take time to snuggle on the couch.  I know moving can be hectic!  Once you're finally in your new place you may want to really concentrate on unpacking.  But taking the time to relax and have a bit of fun can really go a long ways towards making your pets feel comfortable in their new surroundings.  And you never know, a bit of down time may help you as well!
Always remember to keep your pet's individual quarks in mind when coming up with ways to help them adjust to new surrounds.
What would be really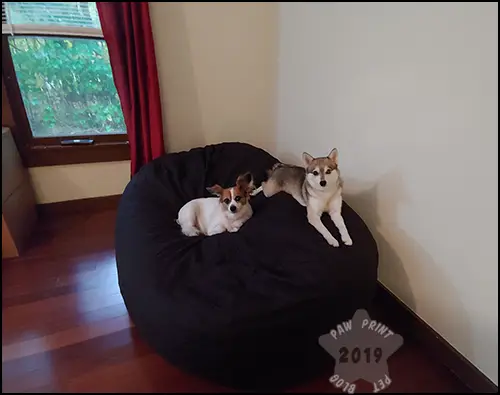 helpful for one, might not work for another.  For Kitsune, he really seemed to settle in as soon as he figured out where the essentials were located in the new house.  As long as he had access to water, a comfy bed, and food, he was pretty happy.
Our bed was one of the few pieces of furniture we moved with and right after we set it up in our new bedroom.  Kit, in his typical fashion, was hogging it.  I gave him stuffed Kongs and other puzzle type food toys while we were unpacking and he was in his glory.  Fen, on the other hand, is super high energy.  The thing that really helped him adjust quickly to the new place was showing him how much fun it could be.  He loves playing fetch, and with his flirt pole in the yard.  I've been taking him (and Kit too) hiking as often as I can.
If you are in the beginning stages of your move and looking for more tips about moving with pets, be sure to check out my previous posts:
Moving Prep with Pets: Tips to Combat Stress while Preparing to Move
Tips for Moving with Pets: Moving Day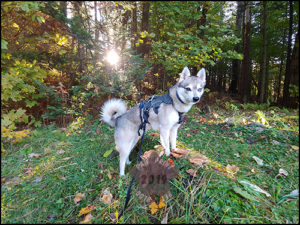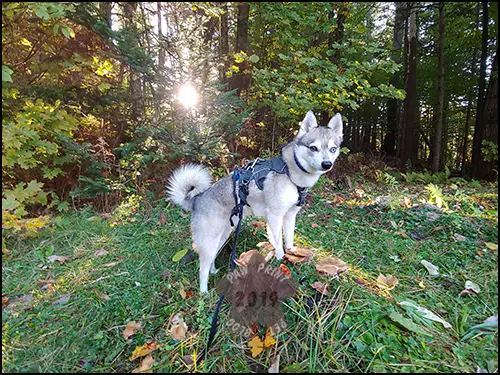 Comment below!  Have you ever moved with pets?  Or maybe you're planning a move now?  Good luck, if that is the case.  If you've moved with pets before, what tips would you share with other pet owners?  What helped your dog to get through the move, and adjust to their new home?
I really worried a lot about how my dogs would take our move.  But, in the end, they both ended up doing really well.  With a little bit of help, your dog should adjust quickly to their new home too!