Papillons are a breed of dog that seems to be growing in popularity.  And for good reason – they are amazing little dogs!  Have you ever considered making a papillon a part of your pack?  I've been sharing my life with my papillon, Kitsune, for over 13 years now!  In that time, between raising my own papillon and interacting with others, I feel like I've gained a pretty good understanding of the breed.  In this post, I'm going to go over five pros, and five cons, of owning a papillon.  Hopefully this, perhaps along with some of my other papillon themed posts, can help any potential new owners decide if this is, indeed, the right breed for you!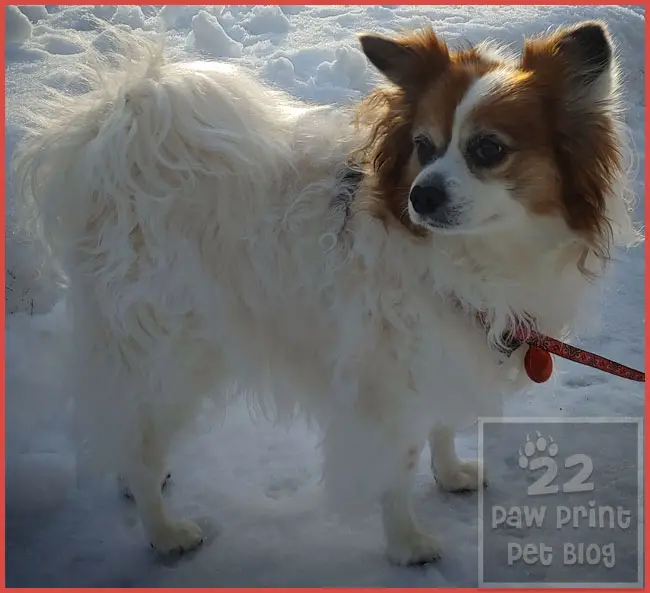 Pros Of Owning A Papillon
They are super sweet dogs!  Kitsune is the sweetest dog ever.  Pretty much everyone he meets, human or animal, becomes his new best friend.  They don't call papillons "social butterflies" for nothing!  Because of how friendly and social he is, Kit made an excellent city dog.  I never had to worry about how he was going to react to meeting new people, or dogs, during our walks.
Papillons are crazy smart!  Papillons are ranked as the 8th smartest dog breed!  Not bad, considering the AKC currently recognizes 197 dog breeds.  This means that papillons are generally quite easy to train, and can excel in things like dog sports and obedience.
Papillons have lots of energy!  This could turn into a con in the wrong home, but papillons are typically very high energy dogs.  As adorable as they are, pappies are not purse pups!  They are very playful.  If you're the type of person who loves to go on adventures outdoors, a papillon might be the perfect companion for you.  My Kitsune, despite also being over 13 years old now, is the best adventure buddy!  We especially love hiking together.
Papillons are a pretty healthy breed.  The average lifespan of a papillon is listed as being between 12 and 15 years.  However, over the years I've met quite a few 15+ year old papillons who were still going strong!  Luckily, most health issues commonly seen in the breed can be avoided by going to a reputable breeder who health tests their dogs, and/or by following proper care standards.
Papillons are the best dogs ever, in small, portable packages!  Papillons have it all – beauty and brains!  Not everyone likes small dogs, I know, but pappies have it all in an adorable little package.  Because they are friendly and small, papillons can make great apartment pets.  They can do everything bigger dogs can, and you'll never have to worry about dog weight limits when applying for apartments or traveling on public transit!  Oh, they are also the perfect size to snuggle up on your lap, too.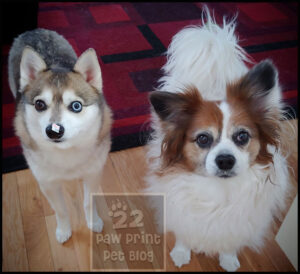 Cons Of Owning A Papillon
Papillons are crazy smart, and have lots of energy! I know… I listed these things as pros too!  However, in the wrong hands, a high energy dog who is also super intelligent is just asking for trouble.  A bored papillon is a naughty papillon!  Papillons are amazing at finding new and exciting ways of entertaining themselves… aka getting into trouble.
Papillons like to bark…a lot! Probably the biggest con for many people, papillons do tend to be a barky breed.  Dare I say yappy, even?  Thankfully, with how intelligent they are, it's very possible to train these talkative dogs to keep it quiet.  However, you really have to be willing to put in the work to train them not to bark too much.
Papillons don't like being left alone. With how social they are, papillons don't like to be left home alone.  They get very, very attached to their people, and are prone to developing separation anxiety when separated from them.  Once again, you have to be willing to put in the time to work on training them if you want to work towards eliminating these types of issues.
Papillon communities/groups can be toxic.  If you're the type of dog owner who likes to find community with fellow lovers of their breed, you might not find what you're looking for in papillon specific breed groups.  Papillon groups are usually some combination of amazing owners, and toxic people who will jump down your throat the second you say or do anything they don't agree with.  I don't know if it's because papillons are such an aesthetically pleasing breed, but a lot of owners seem to only appreciate these dogs for their looks.  That's always been sad to me, since papillons are SO much more than just a pretty face.
Papillons don't live forever.  Probably the biggest con of any dog, I'd imagine?  I'd gladly deal with all the other cons of owning a papillon, 100-fold, if only my sweet Kitsune could be with me forever.  He turned 13 last December and out of all the challenges I've had to face with my dogs over the years, thinking about loosing them someday has, by far, been the hardest thing for me to deal with.
Papillons Are Amazing Dogs, But Not For Everyone
I've loved papillons ever since I first learned about them, in a dog breed book, when I was around 8 years old.  Especially after sharing my life with Kit, this breed will always be near and dear to my heart.  They are such an amazing, versatile breed.  I mean, who wouldn't want a beautiful ball of fluff that's the perfect size for snuggling, but also an amazing sports dog or adventure buddy?
But this breed isn't for everyone.  They are sometimes referred to as "the border collies of the small dog world", because of how smart and energetic they are.  I think most people who don't want a border collie understand why!  It's pretty common knowledge how much of a challenge living with a border collie can be.  But because papillons are small, and very elegant looking, I think their intelligence and energy level often gets underestimated.
Comment below!  Have you ever met a papillon, or maybe even thought about owning one yourself?  What is your favorite dog breed?  If anyone has any questions about this breed, feel free to post them in our comment section below.