Can Dogs Eat Zucchini?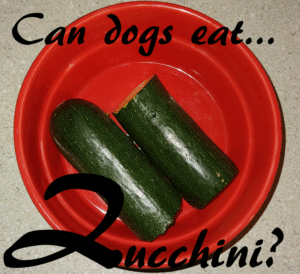 I kind of already answered this question the other day, when I posted about winter squash.  As I said in that post, "all varieties of squash are safe for dogs to eat."  Zucchini is a squash!  It's a type of summer squash, rather than the winter squashes I posted about previously.  But it is a squash, nonetheless, and yes, zucchini,  like all other squashes, is safe for dogs!
Do Dogs Like Zucchini?
Mine do!  Surprisingly, even my Mr.Fen will eat it.  Most people don't eat it raw, but it's perfectly ok to offer pieces of raw zucchini to your dog.  Of course, you can also feed it cooked – as long as you cook it plain without any seasoning.  I wouldn't offer your pup fried zucchini, even if you enjoy it yourself.  But grilled, baked, steamed, or boiled are all fine for your dog.  I personally prefer it grilled, so my dogs have only ever tried it grilled and raw.
Benefits Of Feeding Dogs Zucchini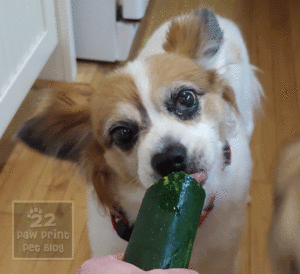 Zucchini is relatively low in calories.  If your dog enjoys it and needs to shed some pounds, grated zucchini could make a good food topper.  If your dog will chew on it raw, it can also be used as a healthy, low calorie snack.
Zucchinis contain lots of good stuff like vitamins B and C, calcium, folate, beta-carotene, and fiber.
Any Precautions?
Nothing major!  Like any new food, you'll want to introduce zucchini slowly.  Too much of it at once, especially if your dog has never had it before, may cause stomach upset.  If you are feeding cooked zucchini that you prepared for yourself your best bet is to feed only plain pieces to your dog.  If you do decide to share some kind of zucchini dish, make sure all the other ingredients in the recipe are dog safe!
Unlike the winter squash that I posted about before, it's perfectly fine to allow your dog to consume zucchini seeds and skin.
Looking for more ideas for healthy "human" foods you can share with your dog?  Check out my other blogging from A to Z challenge posts!
Remember that no one food, no matter how healthy it is, will be a complete diet for your dog.  Zucchini is an awesome snack, but it should only be fed in addition to a healthy, well balanced diet.
And with that – Z is for zucchini, we have reached the end of the April 2022 Blogging from A to Z challenge!  It's been real, and it's been fun – but has it been real fun?  I'm sure my dogs, Kitsune and Fenrir would say so!  I normally give them bits of dog safe 'human' foods as snacks, but upped the snack game for sure this April so that I could get lots of pictures for my (almost) daily food posts.
My biggest challenge completing the A to Z challenge this year was the fact that my laptop, sadly, stopped working about a week into April.  I've been having to work, and blog,  evenings and nights using my partner's computer after he's done working on it for the day.  I'm exhausted.  Although I'm sure Kit and Fen will be disappointed that the month of snacks is over, I'm going to very much enjoy going back to my once a week blogging schedule!
Thank you so much to everyone who's stopped by to visit our challenge posts!  I hope you maybe learned something new, and were motivated to add some fresh foods to your dogs diet.