Life with my senior pup, Kitsune, has been a bit of a roller coaster lately.  In the past couple of months, we've had to deal with IVDD, idiopathic Cushing's Disease caused by his IVDD meds, then a flair-up of his arthritis when we had to stop giving him the supplements we use to control it, also because of the meds he was on to treat his IVDD.  My poor pup!  Thankfully he's been off his IVDD meds for a while now.  I'm working hard to get him back into fighting form.  It was really nice to recently be able to put him back on the supplements that were helping him before he was diagnosed with IVDD.  One of them, turmeric, really seems to help manage his arthritis.  I also give him fish oil.  This post will go over the benefits of fish oil for dogs!
Fish oil is one of the more common supplements you've probably heard about for both dogs and cats. Have you ever wondered why that is the case?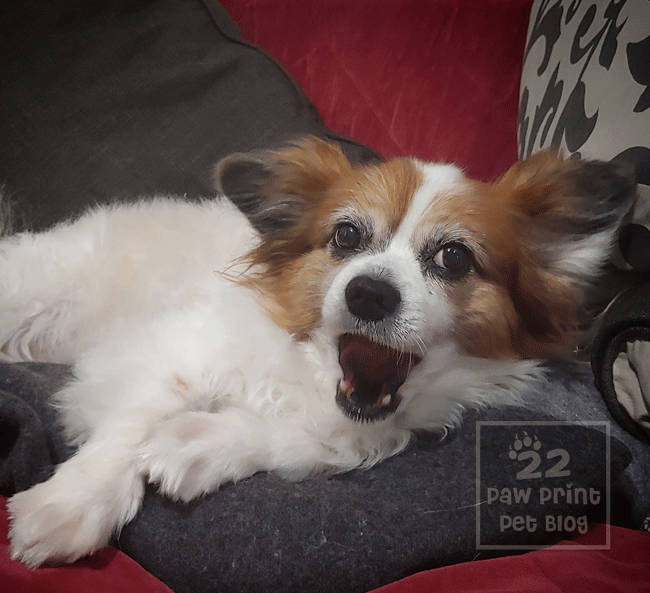 How can fish oil benefit dogs?
One of the many benefits of fish oil is that it helps to promote healthy joint function, and can help reduce inflammation. Fish oil, in combination with a few other supplements, have worked really well to smooth Kit's arthritis.  Well enough that I've, so far, been able to keep him off of prescription pain medications!  Some of the benefits of supplementing with fish oil can include…
A boosted immune system
Relief from skin allergies
Improved cognitive function
Protection against autoimmune diseases
Improved skin and coat health
Potential protection against cancers
Improvement of stomach/digestive issues
Protection against heart disease and stroke
Renal support/protection
Reduced inflammation throughout the body
Relief from arthritis pain
How can one supplement do all those awesome things?
It's all about the EFAs – the essential fatty acids. Specifically, for dogs, you want to pay close attention to omega 3 and omega 6. EFAs help promote optimal health, but dogs' bodies can't produce them themselves. They need to obtain EFAs from their diet. Insufficient amounts of omega 3 and omega 6 have been linked to health issues such as gout, dermatitis, liver disorders, renal issues, skin and/or coat issues, eczema, allergies, and compromised immune systems.
Omega 3 fatty acids specifically have been shown to reduce inflammation, which can help a number of health conditions.  Omega 3s are primarily found in fish. Dogs eating commercial diets, or even homemade diets that do not contain a lot of fish, may not be getting enough Omega 3 to be beneficial. In addition to low levels of omega 3 in most foods, omega 3 is also very sensitive to both heat and light. Although many commercial pet food companies add omega 3 supplements to their foods, it is often destroyed when the food is processed. This is why adding a fish oil supplement to your dogs' food can be so beneficial, even if you are already feeding a food that says it contains omega 3s.
Are there any possible side effects to offering fish oil supplements?
While fish oil supplements are generally considered safe, always pay close attention to dosing instructions. Potential side effects can include weight gain, stomach issues (nausea, diarrhea, stomach pain), and fishy smelling breath. Chances of side effects increase with higher dosages. Fish oil supplements are not recommended for pets who have recently had surgery or are otherwise healing from injury, as anti-inflammatories can lead to longer healing times.
As much as I love fish oil as a supplement for Kitsune, I don't give it to my other dog, Fenrir.  I've tried too in the past, and no matter how low I start his dosage at, I just can't get it to agree with his stomach.


Are all fish oils created equal?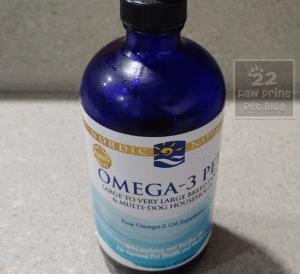 I've been using Nordic Naturals fish oil for Kitsune.  Our old vet, before we moved, recommended this brand of fish oil and it's served Kitsune well for years now.  It's derived from wild anchovies and sardines, and is third party tested for purity.  So you know that you're really getting what you think you are.  Nordic Naturals fish oils are Friend of the Sea certified, and committed to sustainable and ethical fishing practices.  Their fish oils are also manufactured in a zero waste facility!
Nordic Naturals fish oil comes in a UV protective glass bottle.  This is important because, as I mentioned above, omega 3 fatty acids are light sensitive.  I store our bottle in the refrigerator to protect it from heat.  The liquid doesn't have an overly fishy odor, and Kitsune has no problem with the flavor.  I just put his daily dose of fish oil over his breakfast in the mornings.  No fuss no muss!  This is not a sponsored post, by the way.  I get asked a lot about what supplements I use for my dogs, so I figured I'd mention the brand of fish oil I use here.
To be honest, I've been happy with the Nordic Naturals fish oil so it's been years now since I've researched any other brands.  Comment below!  Have you ever supplemented your pet with fish oil?  Is there a particular brand you like, or that seems to work especially well for your dog?  What are some other supplements you've used that have helped your pet(s)?