I love hiking with my two small dogs, Kitsune the papillon and Fenrir the Alaskan klee kai.  Yes, small dogs, and even seniors (my Kitsune is 13!) can hike!
Harnesses > Collars for Small Dogs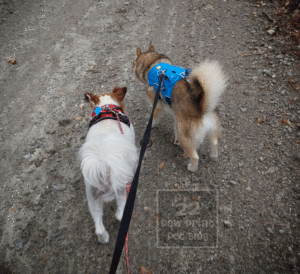 Some dog breeds, mostly smaller breeds, greatly benefit from being walked on a harness rather than having a leash attached to their collars.  This is because smaller dogs are more prone to developing tracheal damage from the pressure of collars against their delicate necks, among other reasons.  "Smaller breeds are more prone to it because they are small in size and naturally have smaller, weaker cartilage in the windpipe" (source).
Collapsed trachea is a condition that is relatively common in small and toy breeds of dogs.  Using a collar to walk a small dog is one of the risk factors for the development of this condition.  Using a properly fitted harness instead of a collar to walk your dog doesn't guarantee that your pet will never develop collapsed trachea.  But it can lower their risk.
The Trachea is a Fragile Thing…
A dog's trachea, or windpipe, much like a humans, is supported and held open by rings of cartilage that circle around it.  In a dog suffering from collapsed trachea, the cartilage rings weaken and allow the trachea to become loose.  The trachea no long has the proper amount of support to keep it open normally, so it collapses down against itself.  The symptoms of collapsed trachea depends on how severe the condition is, and can range from a mild cough to difficulty breathing.
To reduce your small dogs chances of developing this condition, walking them on a harness is recommended. Collars can still be used to hold ID tags. You should avoid holding your small dog by the collar, unless it's during an emergency.
And So are the Eyes!
Interestingly enough, I recently learned that putting pressure against your dog's neck can also negatively impact their eyes.  Too much force against a dog's neck can significantly increase their intraocular pressure (source).  This can be particularly dangerous to dogs already at risk for, or with, eye issues such as glaucoma, or thin/weak corneas.


Harnesses for the Win!
A harness, when fitted correctly, will take pressure off your pets neck. There are many different types and styles of harnesses, so picking the right one for your dog might take some trial and error. Harnesses come in as many colors and designs as collars do, so you can still have fun choosing fun styles for your pet!
Not All Harnesses are Created Equal…
In my opinion, it's important to select a harness that not only fits your dog well, but that also doesn't interfere with their natural gait.  This is especially important for hiking, as your dog will, most likely, not only be walking but will also have to navigate obstacles that may involve climbing, jumping, etc.  Non-restrictive harnesses should leave your dog's front legs and shoulders free to move naturally.
Harnesses with straps that run across the front of a dogs' chest and over the shoulders are not only restrictive, but can lead to injury.  I, unfortunately, learned this the hard way while using this type of harness on my papillon, Kitsune.  Back in 2019, Kit suffered from a soft tissue injury in his shoulder when an off-leash dog ran into him at the park.  When the dog plowed into him, the front strap of his harness put enough force against his shoulders that it caused injury.  His vet confirmed that he, most likely, would have escaped the incident unscathed if it wasn't for the style of harness he was wearing.  I know it was kind of a freak accident, but ever since then I refuse to use this style of harness on my own dogs.
Oh and, (not so) fun fact, Kit was also able to back out and escape from this type of harness.
So, What Type of Harnesses do I recommend?
My favorite style of harnesses for small dogs, and the type I use on my own dogs, are Y style harnesses.  When fitted correctly, Y style harnesses leave your dog's front legs and shoulders free to move naturally.
Out of all the different harness we've tried over the years (check out our Buddy Belt review!), I have a few favorites now that have become my "go to" harnesses.  Of course, what harness works best will depend a bit on your individual dog.
What I use on my own Dogs…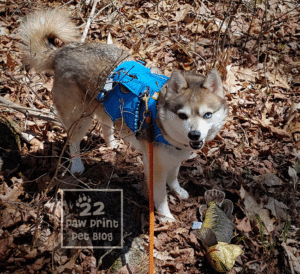 For my Alaskan klee kai, Fenrir, there's only one type of harness that I've felt comfortable using on him for years now.  That's the Ruffwear Webmaster harness.  Fenrir can be a bit of an escape artist.  But since switching to the Webmaster for him he hasn't been able to escape from his harness a single time!  This is especially important since, being a northern breed, I'm not as confident about Fenrir's recall as I am Kitsune's.
While Ruffwear harnesses are awesome, they are also quite expensive.  I thought about getting a Ruffwear Front Range harness for Kitsune, but then found this similar/knock off brand instead.  Kit's been wearing that Juxzh Truelove harness since 2019 and it's held up really well!
Lupine makes some great, simple, nylon harness if you're looking for something on the lighter side.  Kitsune also has a Roman style Lupine harness.  I use it in the summer to keep him cooler.  It's also great in the winter if I need something that'll fit over a sweater.  Lupine also has an amazing, even if chewed, lifetime guarantee on their products!
If you have a really small dog, or a puppy, Puppia harnesses are great.  I used Puppia harnesses for both Kit and Fen when they were tiny little puppies.  I had trouble finding another type of harness that would fit them when they were so little!
Keep an Extra on Hand!
I learned this the hard way!  It's best practice to keep at least one well fitting spare harness around for each of your dogs.  When Fenrir was younger, he chewed up his harness!  These days I'm not so much worried about my dogs chewing their harnesses, but hiking can be hard on harnesses.  It's great to have a spare on hand for times when I need to wash my dogs' regular harnesses.
Dispelling Myths
I feel the need to say, it's a myth that wearing a harness causes dogs to pull!  Pulling on leash is a training issue, plain and simple.  Some dogs may pull more while on a harness verses a collar because it's more comfortable for them to do so.  Harnesses don't put pressure on their necks while pulling, which is what discourages some dogs from excessively pulling while being walked on a collar.  Dogs 100% can be trained to walk on a loose leash while wearing a harness!
Comment below!  Do you use a harness for your dog(s)?  Do you have any brands/styles you especially like?