You're probably thinking, "Jello….for dogs!?"  Let me explain…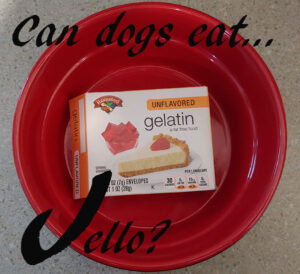 I'm not recommending that you feed your dog Jello treats made/sold for humans!  Jello treats for humans commonly contains added sugar and other ingredients that wouldn't be good for your four legged friend.  But you can buy unflavored gelatin, which is dog safe, that can be flavored with natural ingredients, and is beneficial to dogs with joint issues.
This is the brand of gelatin that I normally buy.  It's just plain, unflavored, gelatin.  My local grocery store carries it – I normally find it in the aisle where they sell powdered gelatin/Jello for people.

Dog Jello Treats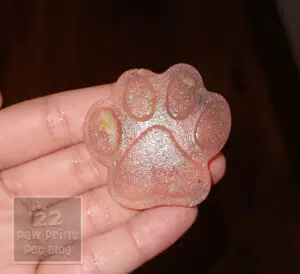 I occasionally offer my dogs, Kitsune the Papillon and Fenrir the Alaskan Klee Kai, gelatin treats that I make and flavor with natural, dog safe ingredients.  For the gelatin treats you see pictured in this post, I used 4 envelopes of unflavored gelatin(1oz), 2 cups of boiling water, and 1 cup of fresh raspberries.  I boiled the water on my stove top with the raspberries in the water, then mixed in the gelatin packets.  I poured that mixture into silicone ice cube trays (paw shaped, of course) and put them in the refrigerator to set.
You don't have to use raspberries!  I did because I had them on hand, but you can experiment and use pretty much anything as long as it's dog safe.  So far I've experimented with using dog safe fruits (strawberries, banana, blueberries), bone broth, and peanut butter.  The gelatin treats never smell good to me when I'm making them, but both my dogs readily eat them, so they must think they taste ok.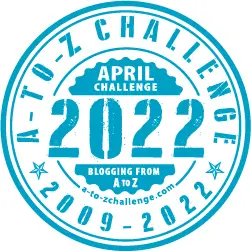 Why Gelatin?
Not only is gelatin safe for dogs, but it actually provides some health benefits.  I've mentioned before that Kitsune has some (so far minor) joint issues.  We supplement his diet with things like fish/fish oil, and glucosamine/chondroitin to help support his joint health.  Carnivores normally get gelatin in their diets from eating animal parts such as tendons, cartilage, and skin.
Glycine, an amino acid that is basically what makes up gelatin, has been shown to aid in protecting against brain damage and seizures.  It has anti-inflammatory properties and can help to promote cartilage growth.  Gelatin can also help prevent arthritis and other joint disorders, and helps to strengthen bones, ligaments, and tendons.  It can also help to support nail, fur, and skin health.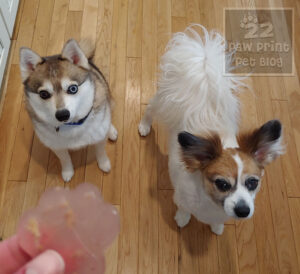 After learning all this, I started offering Kitsune gelatin treats more often.  "Jello" treats for dogs are really easy to make.  If you don't want to make treats, but want your dog to get the benefits of eating gelatin, you can sprinkle powdered gelatin directly over your dog's regular food.
Remember that foods such as gelatin should only be fed in moderation!  Always talk to your vet first if you are concerned about introducing a new food to your pet.  In the case of gelatin treats, make sure you are using plain, unflavored gelatin and not Jello treat mixes sold for people.  Flavored Jellos for people can contain ingredients that are not good for your dog.
Looking for more ideas for healthy "human" foods you can share with your dog?  Check out my other blogging from A to Z challenge posts!
Have you ever made gelatin treats for your dog?  What flavors did you create or, if you've never made gelatin treats, what flavors do you think your dog would like?