Ah vacuums!  I feel like every dog owner out there is on a never ending quest to find "the" holy grail vacuum.  You know the one.  The one that isn't insanely expensive, that sucks up all that dog hair with ease, without getting clogged.  The one that isn't too heavy, too fragile, so on and so forth.  For years now, in dog groups, owners have been recommending Dyson vacuums.  I tried out the Dyson DC41 Animal Complete vacuum.  For just over 5 years it was my only vacuum.  I hated it.  There, I said it.  Well, wrote it at least.
Not worth the price (in my opinion)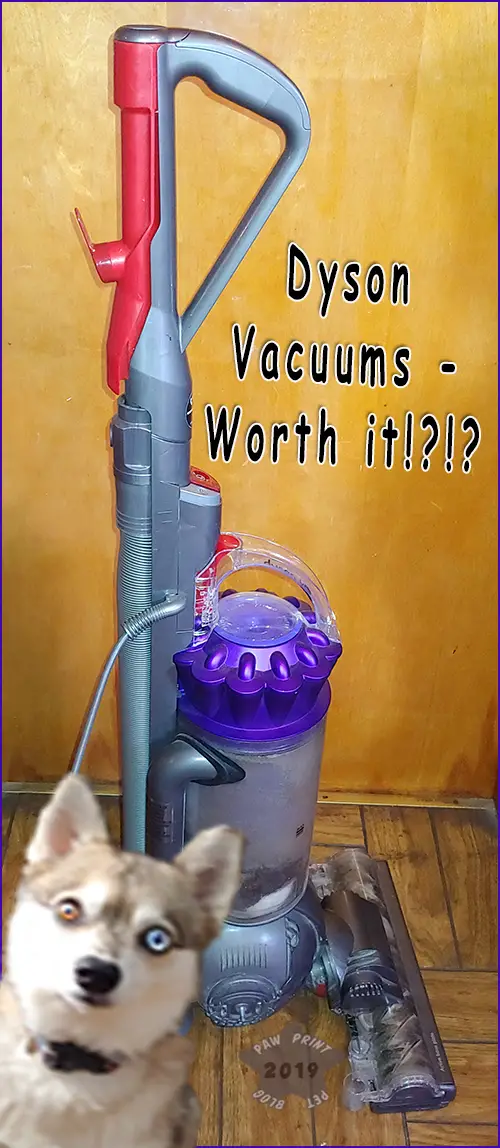 I bought my Dyson animal vacuum way back in 2014.  It (thankfully) came with a 5 year warranty.  Almost exactly 5 years after I purchased it, and right before we moved, I ditched the Dyson.  With the state it was in, it just wasn't worth it to me to go through the trouble of bringing the Dyson along on our move.  I know that people always seem to rave about Dyson vacuums, especially pet owners.  But after 5 years of using ours I'm not sure I'd be quick to invest in a Dyson again.
Dyson vacuums are worth their inflated cost, or at least I don't think they are.  I found the Dyson DC41 Animal Vac on Amazon for $800, even though I'm pretty sure that the DC41 is now an outdated model.  Looking at the Dyson website, their updated version of this vacuum seems to be the Dyson Ball Animal 2.  It currently (at the time of this post) retails at $599.99.
Get the warranty!
Over the 5 years of using my Dyson I was SO thankful that it came with a warranty.  The first time I needed to use it was about a year in.  The acclaimed ball on my vacuum kind of just…fell apart…and I had to have it repaired/replaced.  I remember the Dyson rep didn't want to let me ship my vacuum in to be repaired.  At the time I didn't have a car, so I wasn't able to take the vacuum in to a repair shop.
Despite its high cost, most of the parts of my Dyson seemed to be made of cheap plastic, which made it prone to breaking.  Over the 5 years I had it, I basically rebuilt my entire vacuum, piece by piece, as each piece broke and had to be replaced.
My Dyson lost suction.
I'll admit that when we first got it, our Dyson vacuum did an amazing job of getting all the pet hair off my rugs.  Five years later though, it did a horrible job.  If I went over the same spot on my rugs about a million times, I could get them to look pretty clean.  However, upon close inspection I could always see remaining bits of dog fur and such (see the photo below, it was taken right after I vacuumed!) stuck to my rugs.  This was especially true when I didn't have a ton of time and only went over the rug once or twice, instead of a million times.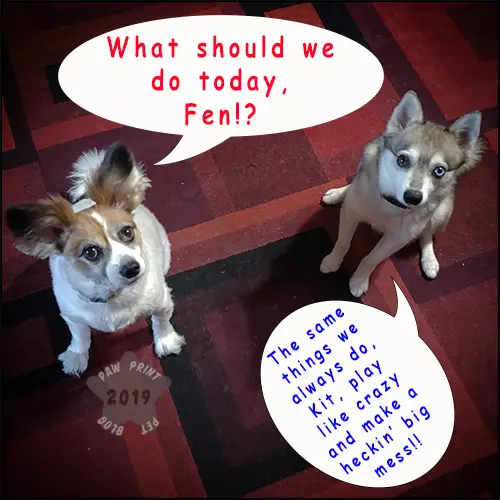 The ball is destructive
I found the wand, and to some extent the vacuum itself, clunky and awkward to maneuver.  The ball on the vacuum is supposed to improve maneuverability, and I felt that to some extent it did, however it doesn't come without its share of problems.  Perhaps you can chalk this up to human error, but I sometimes ran over the cord of the vacuum with the ball and nothing good has come of it.  The cord was so damaged that I began to question whether or not it was safe to continue using the vacuum.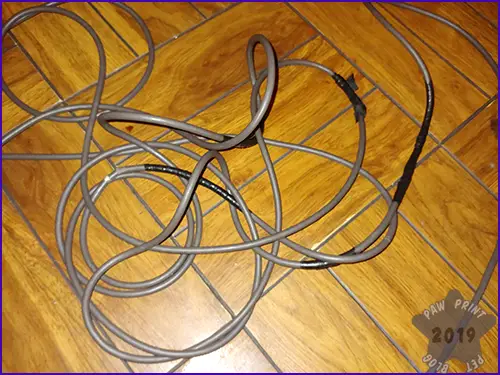 Besides the cord looking like that, the ball on my vacuum was missing one half of the cover because it fell off and I couldn't figure out how to reattach it securely.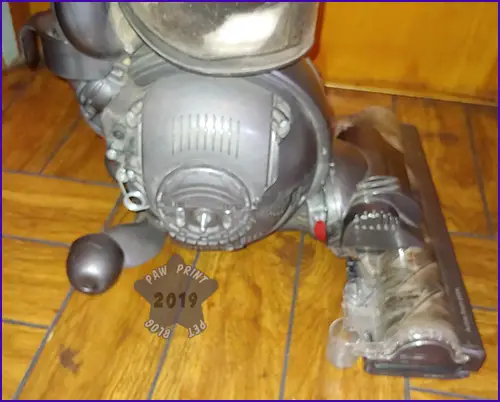 I will 1,000% be the first to admit that I'm rough on my vacuums.
I mean, I don't use them as punching bags or anything crazy, but I use them a lot, usually at least once a day, and I'm not always super strict about keeping up on maintenance when it comes to deep cleaning each part.  But for $500 plus, I expect a product to have some longevity.  While I did still have a semi-working vacuum after 5 years, like I mentioned above, at that point so many of the parts had been replaced that it was essentially not the same vacuum it was when I bought it.  Despite many of the parts being newer than 5 years old, what I was left with didn't work all that well anymore.
Personal Preference?
I don't want to discount all the accounts I've heard/read of people having excellent experiences with Dyson products.  Perhaps a lot of my issues come down to user error, and/or personal preference.  I think the main con, to me, is just that these vacuums, at regular price, are so expensive.  To pay that much for a vacuum with parts that break often is frustrating to say the least.  There are quite a few competitive brands out there that are a lot more affordable.  From my experience, they also seem to be more durable.  If you're lucky you can find a Dyson on sale.  Then perhaps the cheaper price point makes any issues later on a bit more tolerable.
The 5 year warranty on new machines does help lessen the blow a bit when you need replacement parts.  However, at least on the machine I had, it's a limited warranty so not everything was covered.  If you need a replacement part that doesn't happen to be covered, it probably won't come cheap.  And that's not even taking into account the fact that, whether you get it under warranty or pay for it out of pocket, getting replacement parts shipped, or a repair, means you'll have downtime which, in a house with a heavily shedding or otherwise messy pet, isn't very fun.
Are you supposed to use the warranty this often!?
While I was appreciative of Dyson's warranty, I had to use it SO many times over the course of 5 years.  I feel like using a warranty on a product should be the exception rather than the rule.  It's nice to have if you need it.  But when you pay so much for an item you don't usually expect to have to replace parts so soon, or so often.
I've had much better luck with much cheaper vacuums.
I think the main con of the Dyson vacuum I tried just keeps coming back to it's price.  After we moved, sans the Dyson vacuum, I picked up a much cheaper $150 vacuum during an Amazon sale.  I don't even remember the brand of the top of my head.  I just really needed  a new vacuum, and didn't want to pay a ton for it.  Three years later that cheapo sale vacuum is still going strong.  I still use it almost daily, and have never had a single issue with any of the parts breaking.  It's crazy to me that a cheap, no frills vacuum has been holding up way better than my Dyson did!
What do you think?  Have you ever tried a Dyson product?  Was your experience similar or different to mine?