I occasionally purchase catnip.  But I don't have any cats!  So what gives?  Catnip isn't just for cats anymore – it's for dogs too!
First lets take a look at what, exactly, catnip is.
The plant with the scientific name Epeta cataria is commonly known as catnip, and also sometimes as catmint, or catswort.  It's a member of the mint family originally native to eastern and southern Europe, central Asia, China, and the Middle East.  Catnip is a perennial plant that grows, on average, up to 39 inches tall and produces small pink, white, and/or purple flowers from late spring until fall.  Catnip is safe for humans and is sometimes used as an ingredient in herbal teas.  It's best known, of course, for the effect it has on some (but not all) cats.

Roughly 33% of cats are actually not affected by catnip.   For the ones it does influence, an attractant called nepetalactone is to blame.  How cats react to the  nepetalactone in catnip varies.  General responses can include drooling, rubbing and rolling against the catnip, excitement, and increased activity for a short period of time.


But what does catnip do to dogs?
Why would a dog owner buy it?  Although catnip works as a stimulant on cats, it has the opposite effect on dogs.  For dogs, catnip works more as a sedative.  It can help to relax them, similar to how drinking chamomile tea can help relax people.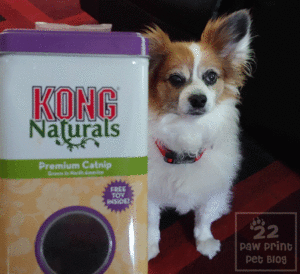 Catnip (for dogs and people) can also help to relax upset stomachs.  It can help to relieve gas, cramps, vomiting, and diarrhea.  It can also be a natural way to help dogs who suffer from motion sickness.
I like to make my dogs catnip tea by sprinkling just a bit of catnip into a water bowl.  I also sometimes mix it into their food.  My papillon, Kitune has always had a sensitive stomach.  Catnip seems to help sooth his tummy, especially on days when he's particularly gassy.  My Alaskan Klee Kai, Fenrir, gets anxiety in a lot of situations.  While catnip isn't a cure for him, it does seem to help him relax at the end of particularly stressful days.  Most recently, I gave it to him after he had to go to the vet for his yearly checkup.
This is the brand of catnip I've been buying, although I'm not really brand loyal.  I've purchased other brands in the past and, so far, all the brands I've tried have been pretty much the same.  Someday I'd love to try growing catnip, for my dogs, myself, but that's a project for another day.
Comment below!  Have you ever given catnip to your dog?  Or do you buy it for your cat?  How do your pets react to it?