I recently wrote about Thanksgiving foods dogs CAN have, for those of you who just can't resist those puppy dog eyes this Thanksgiving.  But I know that not everyone is keen on giving their dogs table scraps.  Between my papillon, Kitsune, being on a diet and my Alaskan Klee Kai, Fenrir, recently dealing with a bout of pancreatitis, I've been super careful lately about what I feed my dogs.  This Thanksgiving dog treat recipe is grain-free and picky dog approved.  If you're looking for an alternative to giving your dogs table scraps this Thanksgiving, consider making them homemade treats! They're fun and easy to make, and your dog will love them!
I originally created this grain free Thanksgiving dog treat recipe in 2010!  For some reason, my original post didn't include any photos.  This year (2022) I decided to remake the recipe so I could get some photos of the process.  It had been quite a while since I last made these treats.  I won't let so much time pass before making them again, though, because both of my dogs went absolutely crazy for these treats!  Yes, even my Alaskan Klee Kai who, for those who don't know, is a breed that is rather notorious for being picky.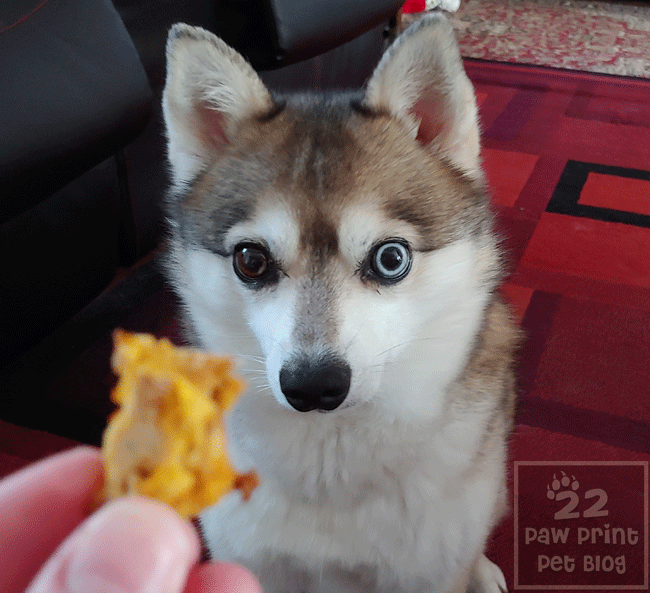 Kitsune's Grain Free Thanksgiving Treats
One of the awesome things about this recipe is that you don't have to be super exact about following the instructions!  I just use one carrot, for example, no need to actually measure out how much carrot you are using.  If your measurements for the ground meat or mashed potatoes are off a bit that shouldn't really matter either.
When making these myself, I shape them into smallish training treats.  They make a large bowl full of small treats.  Because these don't contain any preservatives, they don't last forever and need to be stored in the refrigerator.  If you're worried about your dog being able to eat these before they go bad, consider cutting the recipe in half.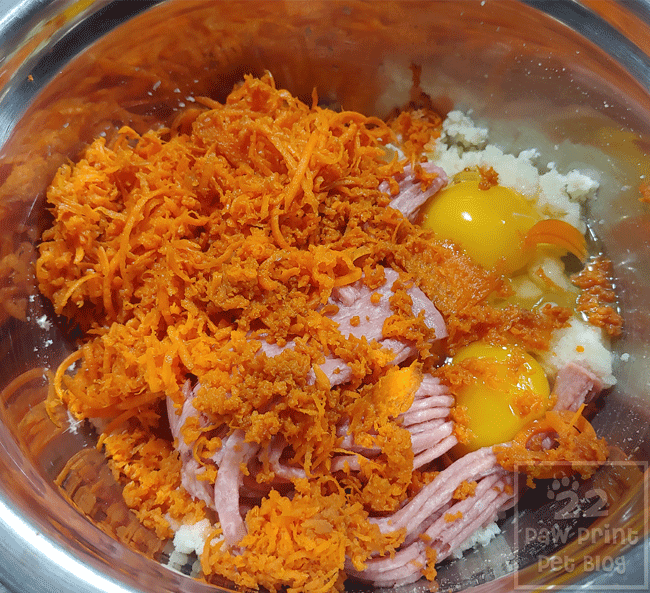 Ingredients:
8 oz ground turkey (any other type of ground meat works as well).
1 medium – large carrot grated or shredded.
1.5 cups of plain (no salt, no butter!) mashed potatoes.  You can use real or instant mashed potatoes, as long as they are plain.
Directions:
Grate or shred your carrot.  Smaller carrot pieces work better, but do what you can.  Hopefully your grater is in better shape than mine is!  My carrot pieces ended up on the larger size due to issues with my grater and the recipe still came out fine.
Measure out your ingredients, crack your eggs, and place everything into a mixing bowl.  Mix until your dough is as uniform as possible.  It may be a bit chunky.  That's ok!
Preheat your oven to 400*F.
Roll the mixture into treat shaped balls, or shape as desired.  I placed my treats onto an ungreased cookie sheet to avoid using butter or oil.  They do stick to the cookie sheet a bit, so grease your cookie sheet, or use parchment paper, if desired for easier cleanup.
Bake the treats for 20 – 30 mins, or until desired texture is reached. The longer you let the cookies bake, the crispier they will be.  I aim for slightly softer, but still fully cooked, treats.  If you make larger treats they will need to be baked for longer.
Make sure to allow the treats to cool fully before offering to your dog.  If your dog is anything like mine, they'll be begging for treats even before they come out of the oven!
Store in refrigerator, or freeze for longer storage.
Enjoy!
If anyone tries this recipe you'll have to comment on how it went, and whether or not your dog liked them!  Sometimes my homemade treats can be a bit hit or miss with my Fenrir.  He's so picky!  But he really loved these.  We hope that all our readers, and their families, have a fun Thanksgiving!