This is a post I've been SO looking forward to!  As of November 12th, my papillon Kitsune has officially completed his mandatory 8 weeks of restricted activity for cervical IVDD recovery.  It's been a long, challenging, 8 weeks.  Unfortunately, our "adventures" in health issues with Kitsune aren't quite over yet.  I'll explain more below.  But Kit, in general, is doing really well!  After a few months of dealing with health issues with him, we finally feel like we can see a light at the end of the tunnel.
Follow Kit's Previous IVDD Recovery Diaries
Saturday, October 29th – Friday, November 4th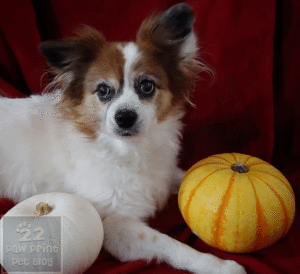 Week 7!  By now, as you can read in our previous IVDD recovery updates, Kit was doing really well!  He has officially been off of all his IVDD medications as of October 26th (week 6).  During his 6-week recheck, the vet gave us the go-ahead to, very slowly, start introducing exercise.  We started with slow, 5-minute walks on flat ground.  Kit did really well with that so during week 7 we increased his walks to 10 minutes once a day.
He also got a bit more freedom around the house.  Kit still wasn't allowed to jump on/off furniture or use the stairs, but he was spending most of his time outside of his crate.  We set up a bunch of dog beds and blankets throughout the different rooms of our house.  So no matter what room we were in Kit could be with us and have a comfortable place to relax.
The most concerning issue during week 7 was that we were growing increasingly concerned that, despite being off of Prednisone since October 26th, Kit still seemed to be experiencing side effects from it.  The shakiness in his legs that we noticed in the weeks prior resolved rather quickly once he was off all his meds, but he continued to drink and pee a lot more than normal.  We discussed things with the vet and were able to rule out a UTI.  We made a game plan to give Kit a bit more time, then investigate further if his Prednisone side effects didn't start to decrease.
Saturday, November 5th – Friday, November 11th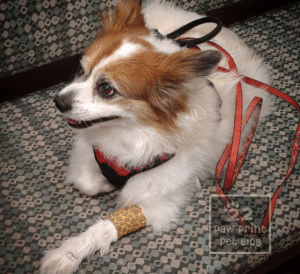 I was so excited to be on week 8 of Kitsune's IVDD recovery!  The end was finally in sight.  This week ended up being a rather stressful one, however.  Kit's frequent drinking/urination were still not fully returning to normal.  Then I noticed that, despite being on a pretty strict diet, Kit actually gained a bit of weight.
As much as I didn't want to have to spend more at the vet, we needed to get to the bottom of what was going on.  The vet drew blood and collected urine to start the process of trying to figure out why Kit seemed to still be suffering from side effects of prednisone.
Idiopathic Cushing's Disease
All the testing we've had done thus far ruled out quite a few potential causes of Kit's frequent drinking/urination.  He (still) doesn't have a UTI.  His kidneys are functioning normally and he does not have diabetes.  The only real abnormality on his bloodwork was elevated liver enzymes (ALP).
Elevated ALP is commonly (but not exclusively) seen in dog's suffering from Cushing's Disease.  An increase in ALP can signify other conditions, such as liver disease.  However, because Kit's symptoms very specifically started while he was taking prednisone, our tentative diagnoses is that he's suffering from idiopathic, sometimes also called false or pseudo, Cushing's Disease.
Luckily, the treatment for idiopathic Cushing's Disease is basically just to wean your dog off of steroids.  We've already done that with Kitsune, but our vet said it can take around 6 weeks before symptoms start to dissipate.  This study agrees.  In the meantime, we'll be keeping a close eye on Kit!  He'll be going into the vet again soon to get another round of bloodwork done.
But He Does Seem to be Improving!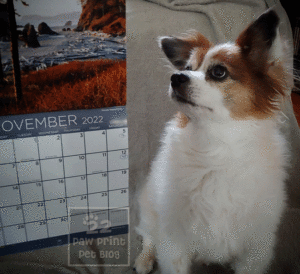 For the past three nights, Kit didn't wake me up a single time to go outside!  That's a big improvement from even just a couple of days ago, when he was getting me up at least once or twice a night.  I've also noticed that he's for sure spending less time at the water bowl.  I wouldn't say that he's 100% back to normal yet, but he for sure seems to be improving!
I didn't want to turn our IVDD recovery post into a post about a totally different disease.  Especially not our final, week 8 of recovery post!  But it seems that Kit's idiopathic Cushing's diagnosis is a part of our IVDD journey.  I didn't want to hold anything back when sharing our experience.  In the future, if Kit ever does have another IVDD flare, I'll for sure be avoiding giving Kit steroids again if at all possible.
I'll keep you all updated on Kit's health and his recovery from the idiopathic Cushing's.  I'll most likely post it as a basic update and not as another IVDD diary.  Current issues aside, I am very, very happy that we can start to put IVDD behind us!  I'm keeping my fingers crossed that we'll never have to deal with it again!  We'll be continuing to take some precautions to hopefully help protect Kit's back going forward.
I'm planning on, eventually, writing up some more educational posts about IVDD.  This will (hopefully) be our last IVDD recovery diary though!  Big thanks, once again, to everyone who wished Kit well over the last 8 weeks!  If you're reading this because you're going through IVDD with your dog, I wish you all the best!  IVDD recovery is long and can be stressful, but of course it's well worth it to see your dog get back to their happy, silly self.  🙂