I've written here before about grooming my dogs at home.  It can be a lot of work, but it's the perfect opportunity to really look my dogs over and make sure they don't have anything going on that I might have missed.  Both of my dogs are pretty furry, and all that fur can sometimes hide health issues such as injuries and lumps.  It's an added perk that I also save a lot of money by grooming my dogs at home.  Groomers aren't cheap.  Half the battle of grooming your dogs yourself is finding the right, high-quality, tools.  Clipping your dog's fur with dull clippers that don't work well is not a fun experience for man or beast, believe me.  Been there, done that.
The Palfur Pet Grooming Kit
Recently I've gone down the rabbit hole of watching dog groomers on YouTube.  Anyone else?  Just me?  I was getting quite jealous of the groomers with clipper vacs.  Imagine being able to clip your dog's fur inside and not having to clean mounds of fur up off the floor afterward!?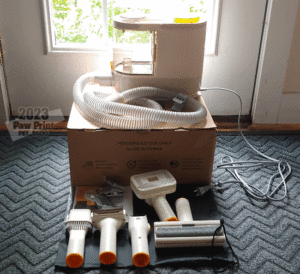 Enter the Palfur Pet Grooming Kit!  When the people over at Palfur first told me about their new grooming kit, I have to admit I was immediately intrigued.  Could it be, a real way to trim your pet's fur at home without getting hair all over the place?
The Palfur Pet Grooming Kit is a compact, versatile handheld vacuum designed specifically for use around pets.  The grooming kit comes with five attachments including my favorite, an electric pet clipper!  The kit also comes with guard combs so you can use the clippers to clip your pet's fur to different lengths.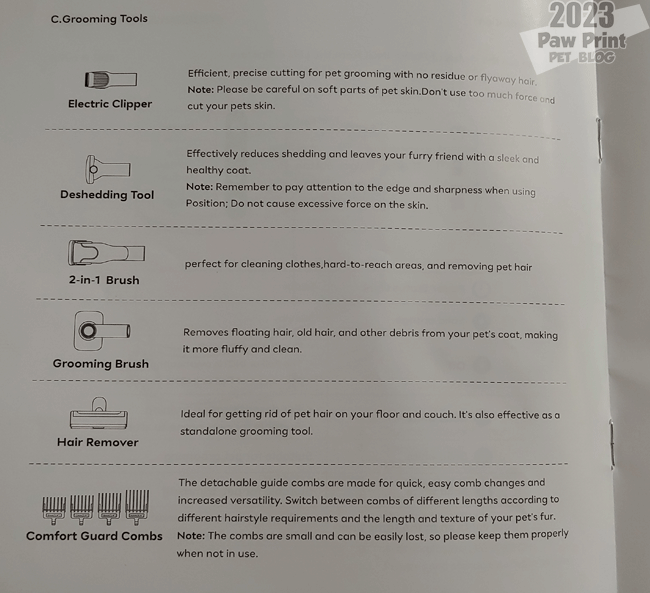 Features of the Palfur Pet Grooming Kit
The Palfur Pet Grooming Kit contains a HEPA outlet filter that helps protect your family from breathing in contaminates such as fine dust and bacteria!
The vacuum body contains a dual-air channel cooling system.  This helps to keep the vacuum cool, even when you're using it for longer periods of time.
The vacuum hose, which is very easy to detach and clean as needed, is 70% larger than the hose on competitive pet vacs.  This helps to prevent clogging, even if you're dealing with large or tangled clumps of pet hair.
The vacuum chamber has a 2L hair/dust capacity.  Directional air flow inside the vacuum chamber compacts the hair during grooming.
The Pet Grooming Kit comes with five grooming tools.  It can be used to do everything from clipping your dog's fur to cleaning hair off your floors and furniture.
Double layers of sound-absorbing shell wrapping keeps the vacuum nose level down.  This is a super important feature in a pet vac, since so many animals don't like the sounds of vacuums.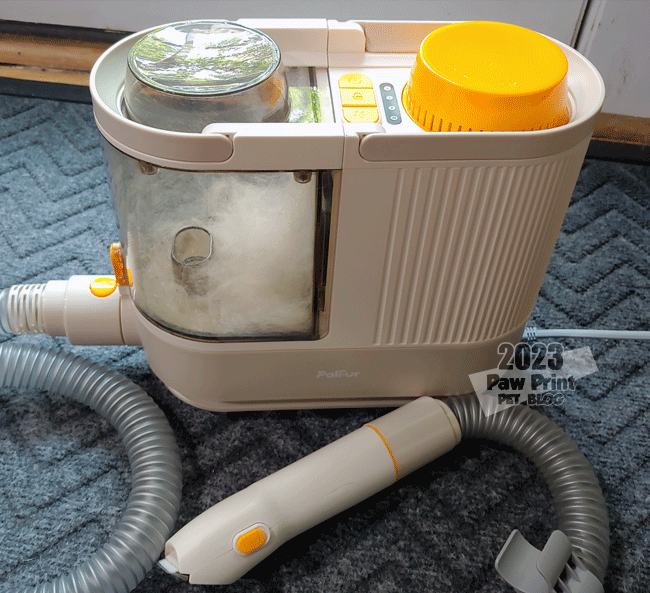 What Did We Think of the Palfur Pet Grooming Kit?
I haven't had our Palfur Pet Grooming Kit very long and I haven't had a chance to try giving Kit a full haircut with it.  But my experience so far has been that it's amazing for sanitary trims!  I trim Kit's sanitary areas and the bottoms of his paws about every other week.  He's a senior now and keeping the bottoms of his paw fur free helps him walk without slipping on our wood floors.  Let's be honest, no one really wants dog butt and paw fur trimmings all over their floor.  The Palfur Pet Grooming Kit contains all the fur trimmings so you don't have to worry about cleaning your floors after grooming your pet.
I'm excited to try out the electric clippers the next time I want to give Kit a full haircut.  Until then, the other attachments are really useful too.  Fenrir doesn't need haircuts, but he sheds.  The various other tools should help me keep the dog fur dust bunnies at bay.
Does the Sound Bother my Dogs?
Kit is one of those dogs who doesn't like the vacuum cleaner.  I was worried that he wouldn't let me use this grooming kit on him, but was pleasantly surprised that the sound didn't seem to bother him at all.  Fen doesn't mind it either!
Do I Recommend the Palfur Pet Grooming Kit?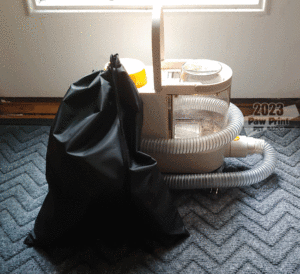 We've had a good experience with our Palfur so far!  The tools, especially the clippers, work well.  The vacuum itself is compact, so it's easy to carry around and doesn't take up too much storage space.  Because it compacts the dust and hair down into the chamber, it holds more than you'd think it would despite it's small size.  I appreciate that it has a HEPA filter to help remove small particles such as pollen and other pollutants.  Having a larger hose is a really smart feature!  My regular household vacuum hose clogs all the time, and I hate having to clean it out.  That doesn't seem like it will be an issue with the Palfur vacuum.
This could be a great kit for someone just starting out with home grooming.  For one price you get a couple of grooming tools, plus other attachments that you can use around the house.  The Palfur Pet Grooming Kit currently retails for $179.99, which I feel is a fair price.  Especially when you take into account how expensive it can be to take your dog to a groomer on a regular bases.  At the time of writing this the Pet Grooming Kit is a bit cheaper if you buy it on Amazon.  Or you can use the code "64YSD2QR16NM" to get 10% off your purchase through the Palfur website!
What do you think?  Comment below!  Do you groom your pet(s) at home?  Have you ever tried an at home pet grooming vacuum?  What did you, and your pet, think of it?
We received our Palfur Pet Grooming Kit for free in exchange for our honest review.  As always, Paw Print Pet Blog strives to only share products we feel comfortable using with our own pets, and that we feel will be useful for our readers.  All opinions expressed are our own.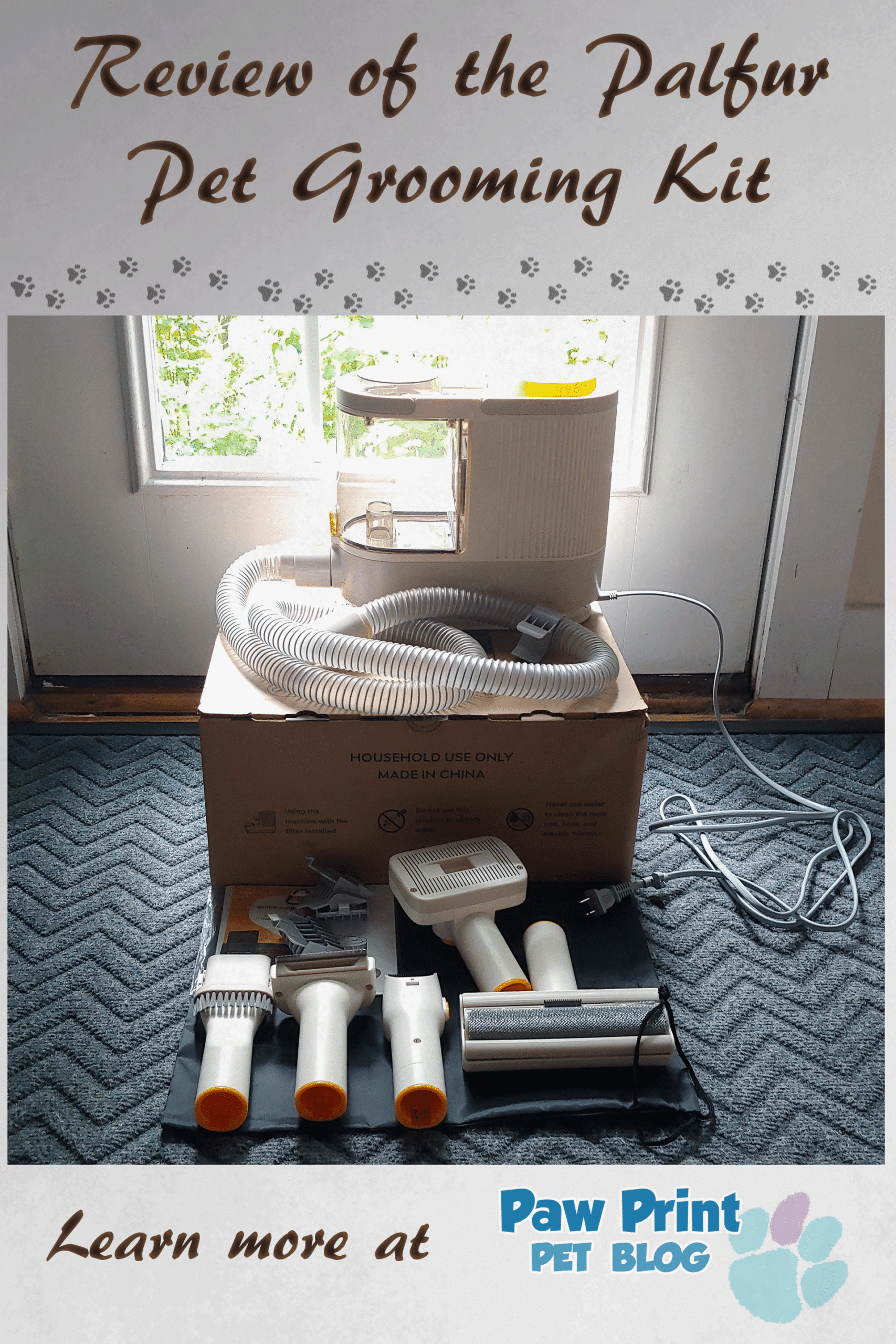 We've, unfortunately, been dealing with content scrapers stealing our articles lately. You shouldn't be seeing this article on any site other than pawprintpetblog.com! If you're reading this article on any other site, we'd love for you to take the time to contact us and let us know and, if you have the time, stop by and visit us on our official site! Thanks you.