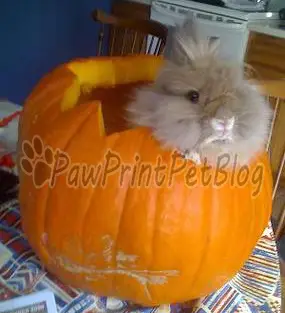 We are just over a week into fall now.  It's crazy how fast 2013 has gone by so far!  Early October is commonly when people start thinking about Halloween themed celebrations.  Even if you don't celebrate Halloween, the symbols and decorations of the season will soon be all around us.  Almost no other Halloween symbol is as widely recognized as the Jack O'Lantern.
Carving pumpkins is a lot of fun - but did you know that fresh (and plain canned) pumpkin can also be a beneficial addition to your pets' diet?
It's true!  Pumpkins are high in fiber, making them a popular 'go to' home remedy for digestive issues such as diarrhea and constipation (Yes both!).   It's good for both herbivores, such as rabbits, and carnivores, such as dogs and cats.  Many pets seem to enjoy the flavor of pureed pumpkin, and just a small amount, mixed in with your pet's regular food, can be enough to help improve digestive upset.
Pumpkins are composed of about 90% water.  Feeding an ill pet small amounts of pumpkin can be a great way to not only give them some much needed nutrients, but it can help prevent dehydration as well.
Speaking of nutrients - Pumpkins are a good source of beta-carotene, potassium, iron, and Vitamin A.  These nutrients can help support general health, the immune system, and may even help to prevent some types of cancer!  Natural oils present in pumpkins are thought to help support urinary health.
Most pet owners already know that obesity can be just as problematic for pets as it is for people.  The high fiber content in pumpkins means that it produces a full feeling when consumed.  If your pet is on a diet, a small amounts of pumpkin mixed in with their regular food can help them feel full.  You can even try making pumpkin treats (the recipe in my book Cooking with Canines is a great place to start) for a lower calorie, filling, and delicious treat for your pets!
Now that you know some of the benefits of pumpkin in your pet's diet, you might be wondering how to prepare it.  Fresh pumpkins can be cooked and pureed, or you can purchase canned pumpkin puree.  Remember that pumpkin pie filling is not the same as plain canned pumpkin!  You'll want to look for a brand that doesn't have any added sugar, spices, preservatives, or other ingredients.  Pumpkin pie filling may taste great in a pie, but the added ingredients can cause stomach upset in pets.