Back in April of 2014, I posted a review of the Dyson DC41 Animal Complete vacuum.  I don't often post re-reviews of products, but I recently had a reader email me to ask how my vacuum has held up.  I figured that if one person was interested in an update, others might be as well.  When I posted my original review I had only been using the vacuum for just over a month.  Read on if you'd like an update on my experiences with our Dyson animal vac!
I feel very conflicted about this vacuum.  I know a lot of people, pet owners especially, rave about Dyson vacuums.  Ours does do a very good job at getting dog fur off the floors.  At the end of my original review, I said that I would buy Dyson products in the future.  Based on my experiences with my DC41 vacuum over the past year, I think I would consider purchasing Dyson products, but they won't be my "go to" brand when it comes to vacuums.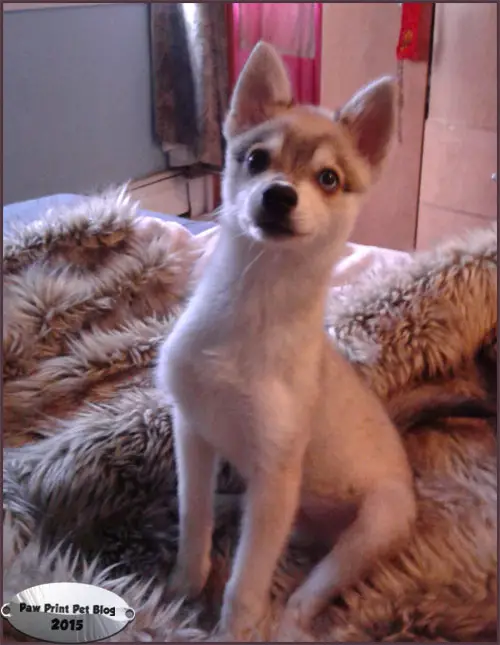 If I were to create another pro/con list now, it would be very similar to the one I originally posted.  As long as I clean it out regularly, my vacuum still does a good job when it comes to cleaning my floors.  But that's all I really use it for.  I don't like the wand on this machine.  It's clunky and difficult to maneuver.  While I do think it might work ok for reaching high areas, for example a ceiling fan, it's a pain to use if you want to clean areas of the floor where the main body of the vacuum won't fit.
I still like that the filter can be cleaned rather than needing to be replaced, but it takes quite awhile to dry.  I find myself regularly putting off cleaning out the filter because I don't want to be without a vacuum while I'm waiting for it to dry.
I feel that the Dyson ball is kind of overrated, to be honest.  It does improve maneuverability a bit, but comes with it's share of problems.  As I stated in my original review, you have to be really careful not to run over anything with the ball.  It hurts quite a bit if you accidentally run over your toes, and I damaged the cord of my vacuum in a few spots from catching it on the ball.
Bringing me to my next point...the ball on my vacuum recently broke.  I mentioned previously that the parts on the vacuum seem to all be made of plastic.  One side of the ball screws into place over a filter, and can be removed so you can clean out the filter.  The other side is supposed to be permanently attached - but mine snapped off.  As far as I could tell, all that was holding it on in the first place was a small piece of plastic.
I tried using my vacuum with one half of the ball cover missing for awhile but found that it was more difficult to push around.  I eventually ended up contacting Dyson and because my machine was still under warranty, they offered to fix it.  The repair process was quick and I was able to set it up all through email, which I appreciate.  Dyson originally wanted me to take it to a repair shop but eventually allowed me to ship it to them instead.  Not having a car would have made lugging a large, broken vacuum to a repair shop pretty much impossible for me.  They did say that allowing me to ship it to them for free was a 'one time courtesy' so hopefully my machine never breaks again.
Honestly I was upset about having to have my machine repaired after only just over a year of use.  It wasn't cheap, as far as vacuums go, and I feel it should have held up better especially considering the fact that I have two vacuums and don't use my Dyson exclusively.  My overall experience was made a bit better by the fact that Dyson's customer support and repair process was quick and easy.  Although, like I mentioned, I'm a bit concerned that if my machine broke again I'd have to pay out of pocket to ship it to a service center.
While my experience with Dyson wasn't altogether negative, I personally have had a better experience with my Shark Navigator.   My Shark was much cheaper than what Dysons retail for.  The wand is much more user friendly - I still use it almost everyday to vacuum out the inside of my rabbit cage.  I've had my Shark for years and it still runs, despite the fact that I really abuse that poor vacuum.  I haven't had any issues with any of the parks breaking, contrasted to my Dyson breaking after less than 2 years of use.
I think I'd more readily recommend Dyson vacuums if they weren't so expensive!  The model I have still retails for around $500 new.  Luckily Dyson does offer a 5 year warranty on new machines, and their repair process was pretty painless for me.  However, I was still disappointed that I had to have it repaired in the first place.  If anyone else uses a Dyson I'd love to know what you think.  How long have you been using yours and what are your overall thoughts about it?