Some of my readers may remember that last January I posted a review for Yaheetech dog playpens.  Although we were really happy/impressed with our pen, I felt like maybe my earlier review didn't do the best job of showing it off.  This past winter was long, and especially brutal here.  Not long after we received our playpen, good ol' Mother Nature decided to drop 4 (yes 4!) feet of snow on us at once.  As you can probably imagine, with that much snow on the ground it was hard just walking around outside, forget attempting to build and utilize a new dog pen!
Since My Last Review…
I tried my best to share the features of the Yaheetech dog playpen without being able to actually assemble the full pen.  To be honest, after taking pictures for January's review I basically collapsed the pen and let it sit outside behind our house.  Winter sloooowly gave way to spring.  All that snow melting meant that our yard has basically been a giant mud pit.  Finally, this past weekend, I found both the motivation, and a dry spot in our yard, to get outside and set up our pen!
We received our Yaheetech dog playpen for free in exchange for our honest review.  As always, we strive to share only products we feel would be of interest to our readers.  All opinions expressed are our own.  This post contains affiliate links.  If you make a purchase using one of our links we will receive a small commission at no additional cost to you.
First Impressions…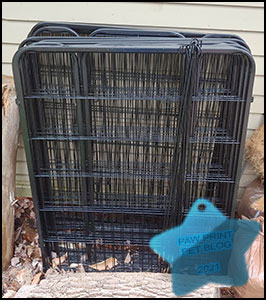 Right off the bat I was super impressed that the pen panels I had left outside in the elements for 5 months were still in perfect condition.  Besides being a little bit muddy, they looked just as good as they did the day I unboxed them.  Building the playpen was super easy, which I was especially thankful for because I seemed to have misplaced the instructions that came with it.  Our playpen is the 16 panel 40 inch model, so it's a pretty good size especially considering that my dogs are on the smaller side.  These pens are super modular.  They do come in sets that include more panels, which would make a larger pen.  Alternatively, it would be really easy to buy another set of panels later on and add them to your existing pen, if you ever decided you wanted to expand it.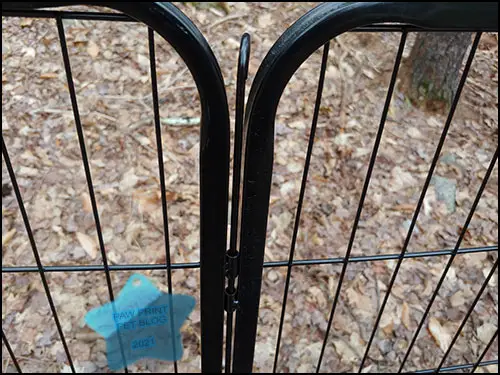 Setting Up Our Pen
The pen panels basically attach together with metal stakes.  You slide the stakes down through alternating holes in the fence panels.  I don't remember if this was in the instructions or not, but I pushed the stakes down further so that the ends of them went into the ground.  I'm sure the pen would still be secure if you didn't, or couldn't, do that, but I liked the idea of potentially being able to give our playpen a bit of added stability.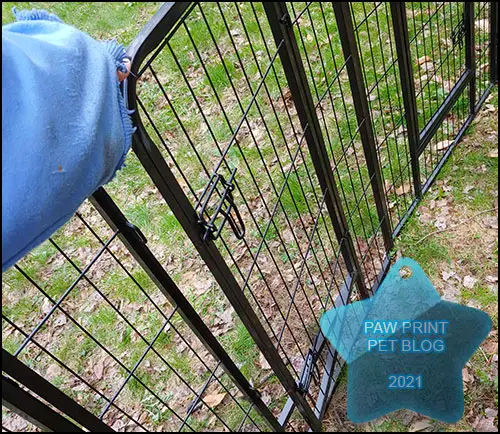 I like the door on our Yaheetech pen too!  You can set it up to swing in whatever direction works best for you.  Our pen came with two doors.  I set them up to swing in opposite directions because I wasn't sure which way I'd like them best.  The door being smaller means I can easily slip in and out of the pen without having to worry as much about my dogs (Fenrir!) trying to escape.
Here's probably what most people will want to see most, the completed, full size, pen!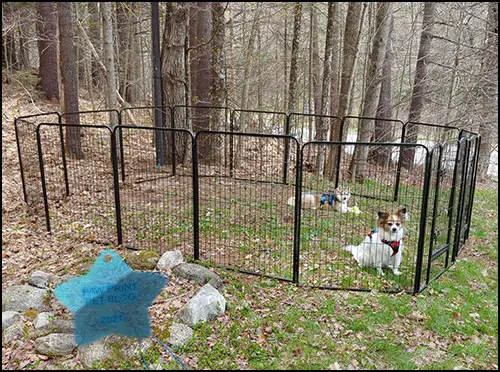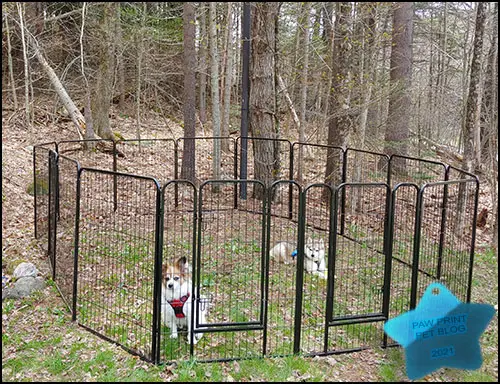 Probably the most important part of any dog product review – do my dogs like it!?
Kit, as you can maybe tell from those pictures, was a bit unsure of it at first.  Usually, when I take him out in the yard, I stay with him and just let him wander.  At first, after I put him in the pen, he kind of just sat near the edge looking out at my partner and I.  But eventually he did start feeling more comfortable about the whole thing and got right down to business – the business of digging for worms!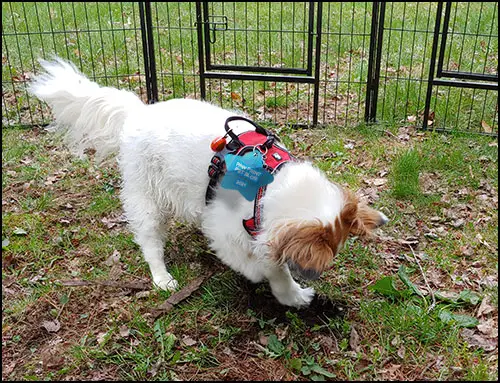 Fen, on the other paw, was pretty excited about the playpen right from the start.  Anyone who knows anything about Alaskan Klee Kai knows that the breed isn't known for being great off-leash.  Our yard isn't fenced, so when I want to give him more freedom to run outside I usually just use a long line.  I don't think I even need to write too much about how much fun Fen has been having being able to run around off-leash.  I'll just let these pictures speak for themselves…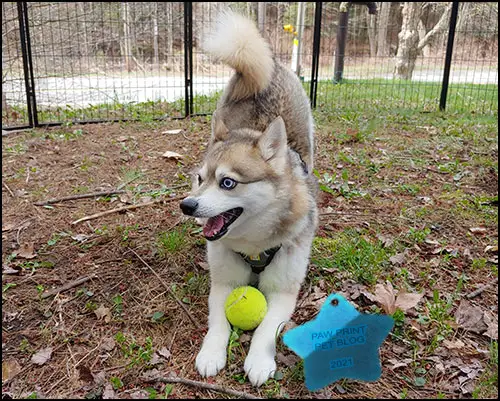 Great For Playing Off-leash!
Now almost every time I take Fen out in the yard he tries to drag me over to 'his' playpen so he can go inside and play fetch.  The pen has also been super convenient for times when I want to have the dogs outside with me, but I can't give them my full undivided attention.  It keeps them safe and contained while I get other things done, like working on the car or yard work.
If you want more details on our Yaheetech dog playpen you can check out my first review here.  Of course also be sure to check out the Yaheetech website!  Besides dog pens, they also sell other pet products as well as other types of products too.  I've totally been eyeing some of their gardening supplies!
Thanks so much for reading!  Comment below!  Have you ever used any type of outdoor pen for your pets?