B is for Banana but…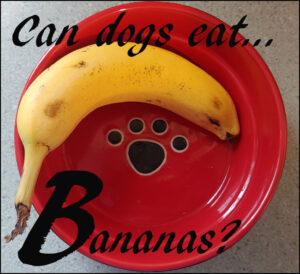 I had a hard time choosing what food to use for B.  The first food that came to mind was beef, which both of my dogs eat on a pretty regular basis.  But then Kitsune ended up kind of selecting the B food for himself.  I was eating breakfast the other day, and he was underfoot begging for what else, pieces of my banana.
This post is part of our April 2022 Blogging (snacking) from A to Z challenge!  Recognize this post?  This series was originally posted in April 2016.  Because I needed to go back and redo/update these posts anyway, I decided what better time than another April?

So bananas it is!
This is going to be an ongoing theme with these food posts, but you want to make sure not to feed bananas in excess – moderation is key!  Bananas are high in natural sugars, so should be counted as a treat food.  Too many bananas can cause constipation.  Also, never feed your dog banana peels.  They are very difficult to digest, for dogs especially, and can cause blockages.
Otherwise, bananas are safe for your furry friend to consume!  Kitsune love them plain, but they make a great addition to dog treat recipes as well.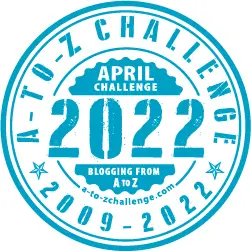 What are the Benefits of Feeding bananas?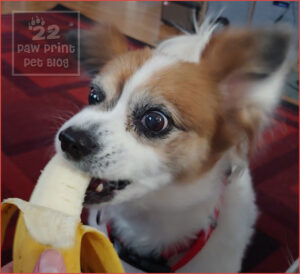 Most people already know that bananas are high in potassium, which is great for both muscles and blood vessel function.  They also contain lots of fiber (we all know what that's good for!), vitamin C, vitamin B6, biotin, and magnesium.
Eating bananas can help support your pup's immune system, and promotes skin and fur health.  They are full of antioxidants and may help to maintain healthy blood pressure.
Due to how soft they are, it's easy to mush a banana to add to your dog's food or in a treat recipe.  Or, like I do, you can just offer your pup a piece of your breakfast banana.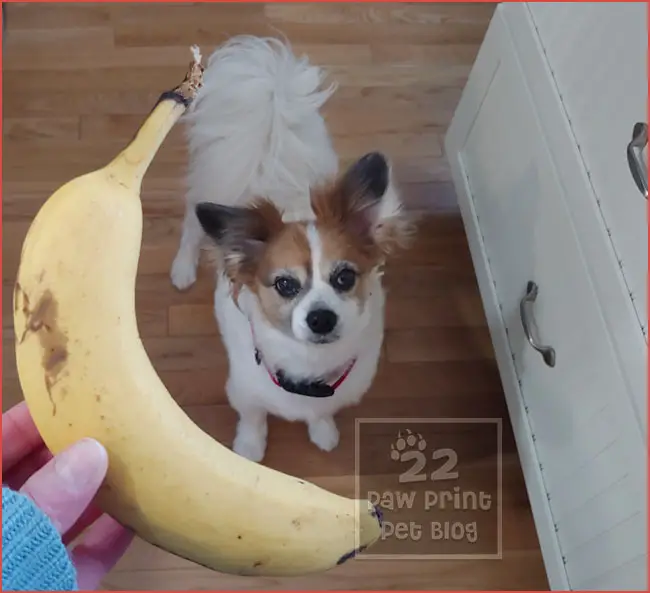 Do Dogs Even Like Bananas?
Kitsune LOVES bananas.  He begs for them with as much enthusiasm as if they were w meaty treat.  He even tries to raid the trash when he can smell banana peels in there.  Fenrir, on the other hand, isn't as crazy about them.  In fact, most of the time when I offer pieces of banana to Fenrir he rejects them.  If you're not sure whether your dog likes them or not, it would probably be a good idea to offer a piece of plain banana before going through all the trouble of mixing them into food or baking them into treats.  Like with all new foods, go slowly when introducing your pet to bananas for the first time.