My post about preserving puppy teeth originally went up in May of 2016!  This is an updated version, be sure to read to the end to see how my puppies' teeth have held up after all these years!
In the scheme of things, your dog's puppyhood is fleeting.  Teething is a rite of passage all puppies must go through.  I fully admit to being a bit sentimental when it comes to my dogs, and preserving puppy teeth that I found from each of them.  I only found one of Kit's puppy teeth when he was teething – a canine tooth.  Most puppy teeth end up either being swallowed by your dog, or lost in your dog's environment.  I was lucky to be able to save four of Fen's teeth, two molars, an incisor, and a canine tooth, all of which Fen trotted over and spit out at my feet.
But what do you do with puppy teeth once you find them?
Most people probably just throw puppy teeth out, or tuck them away somewhere safe, in a jewelry or memory box perhaps, as an oddity to look at every now and then.  I have a shadow box where I display paw and nose molds that I took from Kit.  Somehow, I wanted to include his puppy teeth, but in a way that would also keep the teeth from getting lost since they are so small.
I preserved my dogs' puppy teeth by displaying them inside a glass bottle, commonly sold for crafting or jewelry making.  The mineral oil I used inside the bottle helps to magnify the teeth.  I also included some decorative extras, such as my dogs' names written on grains of rice and glitter.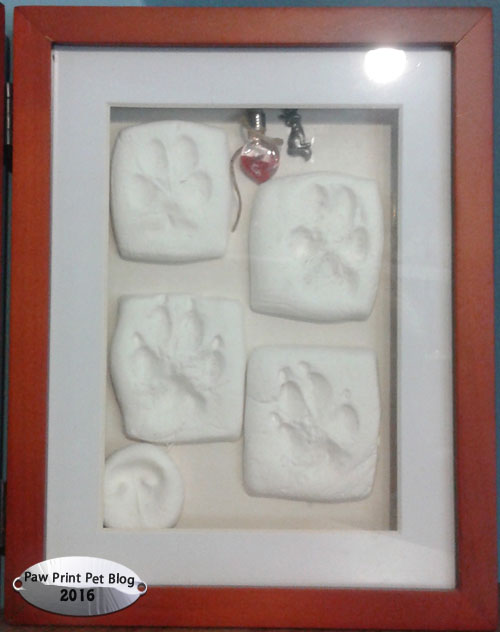 The little bottle pictured on the top/middle holds Kit's puppy tooth.
I also included some little red beads and his name written on a piece of rice.  Before sealing the bottle, I filled it with mineral oil.  The clear oil helps to magnify the stuff inside the bottle, and it protects the fragile tooth from hitting the side of the bottle too hard if the display is jarred.
I liked what I did with Kit's tooth so much that I decided to do the same with Fen's.


If you are interested in preserving your puppy's teeth the same way, here's what you will need:
Super Glue: Used to seal your bottle.  This isn't necessary, but I use it for added security.  I like this brand, but any type of glue should work.
Mineral Oil: Any brand is fine, as long as it's clear.  I just bought this at our local pharmacy.  You only need a small amount.
Glass Bottle: What bottle you use is up to you.  I prefer small  bottles since the puppy teeth I'm putting inside are small.  They'd look lost inside a big bottle!  You should be able to buy tiny glass bottles at your local craft store.  They are usually sold for creating crafts/jewelry.  I got mine off Amazon.  Online they are often sold in bulk, but even so usually aren't very expensive.
Additional Items: You don't need to add anything extra, but I like too.  I added Fen's name written on a piece of rice, and some tiny decorative glitter pieces.
Puppy Teeth: Don't forget these!
Once you have all your supplies the rest is easy!
Make sure your teeth are clean and dry, then put them and any addition items you want inside the bottle. Next add the mineral oil.  Don't worry if you get oil on the outside of the bottle.  It can be hard to pour stuff into those tiny bottles, plus you can just clean it up when you're done.  If you'd like, put a small amount of super glue around the outside of your bottle's cork, then cork up your bottle.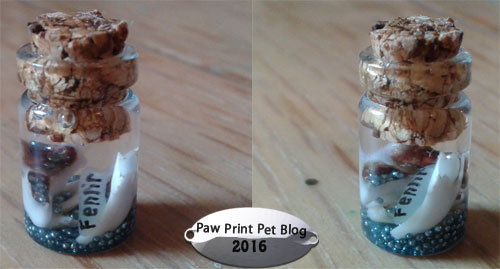 An update – 6 years later!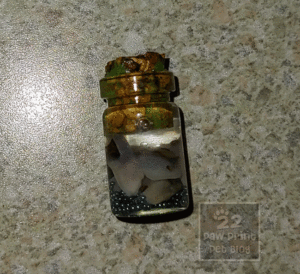 It's been 6 years now since I originally posted this project.  I figured an update was long overdue!
The other day I was cleaning through some of Kit and Fen's stuff and came across their puppy shadow boxes stashed away in the back of a drawer.  Unfortunately I just don't have the space in our current rental house to display them.  I've been meaning to update this post for quite awhile now, and figured some people might be interested to see how my preserving puppy teeth project has held up after all these years!
Not too long after I made this post, I discovered that the glass bottle holding Fenrir's puppy teeth was leaking mineral oil.  I had to open it up, add more oil, and reseal the cork.  I tried resealing it with a modeling clay, which is why you might notice some green spots on cork.  That didn't work out, however, so I just went back to using the good ol' fashion super glue.  I didn't have any more issues with leaking after sealing the vial the second time.
The teeth inside seem to be holding up well!
The last two pictures in this post are recent, so after Fen's puppy teeth have been in the mineral oil for 6ish years.  I also have one of Fenrir's puppy canine teeth that I just taped inside his shadow box.  Less work, and that tooth has held up just fine too.  It doesn't look as cute as the teeth in the little bottle, though!
I've gotten comments on this post over the years about how weird I am for preserving puppy teeth.  Weird, sure, but my puppies shadow boxes are something I'll cherish and keep forever.  I love puppies so so much, and keeping silly mementos like this from my dogs' puppyhoods brings back so many happy memories.  It seems like just yesterday they were sinking those sharp little puppy teeth into my feet, and now my first 'puppy' is almost 14!
If anyone tries this for themselves I'd love to hear/see how it went!  Comment below, or head on over to our Facebook page and share a picture of your puppy tooth creation!