Kitsune, and to some extent Fenrir too, grew up as city dogs.  Kitsune joined our pack in March of 2009.  From then until late 2019, we lived in a third floor  walk up apartment just outside of NYC.  Fenrir joined us in September of 2015.  Although he didn't live in the city as long as Kitsune did, his formative first years of  life were spent there.  I didn't like living in the city, and neither did Fenrir!  I very much prefer our new, quiet country life.  But I have to concede that there were some benefits to raising dogs in the city.
Friends: There's no lack of people, or dogs, in the city.  It can be awesome if you have a particularly social dog, like my Kitsune.  Even if you need to be selective about what types of people/dogs your dog spends time with, there's so many people around that you're likely to find at least a few compatible friends.  This is one thing that I, surprisingly, miss now that we moved away from the city.  Kitsune, the social butterfly that he is, was so well known by everyone who lived around our old apartment.  He had dog friends who he loved to visit and play with.  A few people in local shops kept a stash of treats on the ready for Kit's visits.  Where we live now, we almost never run into other people or dogs during our daily walks.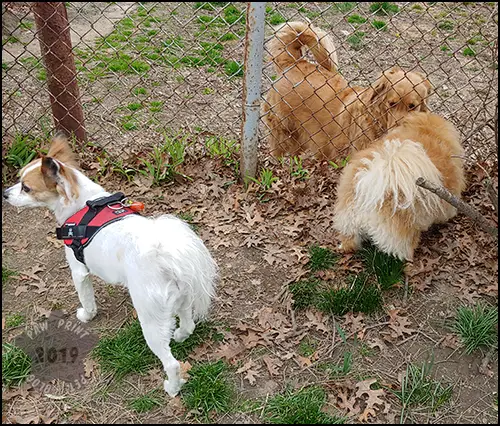 Staying Active: People who live in apartments, without access to a fenced in yard, sometimes catch flak in the dog world.  But when we lived in our apartment, even going out for a simple bathroom break would entail gearing up, trekking through our building, then walking around outside.  On a normal  day I was walking around 5 times a day, sometimes more with my dogs.  Yes, having a yard is easier.  It also makes it much more tempting to just let your dog go out in the yard for a bathroom break, verses actually walking them.
Fun Things to Do:  In the city, there's always something going on!  Many events are dog friendly.  Kitsune used to love attending local events, such as festivals.  The city we lived in had a few restaurants and stores that allowed dogs inside too.  It was easier to find dog themed events without having to travel very far.  We used to have a park within walking distance from our house.  My dogs both loved walking to the park.  They liked to play in the fields, or walk on the boardwalk to the beach.

Convenience: Living in the city, I never had to worry much about where to buy Kit's specificity food, or finding a vet that was open.  Pretty much everything you could ever need is close by.  There were 3 separate pet stores in my city, even more if you travel a bit outside of the city.  Kit and Fen's vet was close enough that we could walk there in about 10 minutes.  Their vet was also staffed 24/7.  I never had to stress about where I would take them during an off hours emergency.  Now, their vet is around a 20 minute drive away.  They aren't open evenings or weekends, and the emergency vet is even further away.  We don't have a single pet store in our new town either.
Lots and lots of Training Opportunities: I often wonder what Fen would have been like if we didn't live in the city while he was a puppy.  Fenrir has always been a dog that gets stressed easily.  In the city, I pretty much had no choice but to expose him to lots of other people and animals.  I worked hard on training him so that the hustle and bustle of the city was something he could cope with.  I think, perhaps, if I had raised Fen in a less populated area it would have been much easier for me to just ignore some of his fear issues.  In some ways that may have made my life easier.  But I think it's been for the best that I was able to expose my dogs to lots of different people, animals, places, things, etc.  I think they're better dogs for it, and I a better trainer.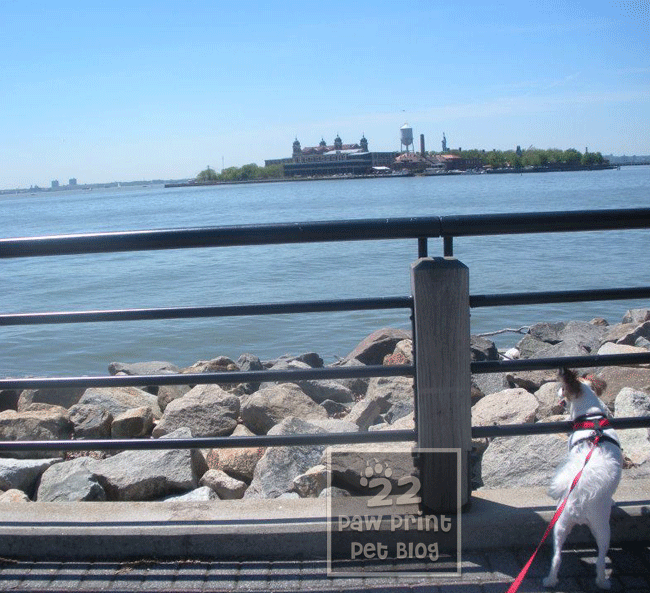 If you're also a city dweller with pets, what other pros can you think of?  If you live in a more rural area, what challenges and perks has living in that type of environment presented you with?