Papillons are a toy breed of dog that generally weigh under 10 lbs.  Small, especially toy, breed dogs are usually thought of as companion breeds.  They're good for warming laps and keeping you company.  But a dog is a dog, no matter their size.  Small dogs are, unfortunately, often underestimated.  Despite their compact size, they can do many of the things that much larger dogs can do!  If you're reading this post you are probably wondering, do papillons like to hike?  Is it safe to take your papillon hiking with you?
Papillons Can Make Amazing Hiking Companions!
Although small, papillons are athletic.  People often underestimate them, thinking they are getting an adorable lap dog when, in reality, papillons can be quite high-energy little dogs.  Sometimes nicknamed the "border collies of the toy dog world", papillons can make excellent little sports dogs.  Besides having lots of energy, papillons are also considered to be the 8th smartest dog breed in the world.  This means that not only do they have the energy required to participate in activities, but they are generally pretty easy to train too!  Papillons excel at activities such as agility, obedience, nose work, and, yes, hiking!
Papillons, despite being a toy breed dog, can make amazing hiking partners!  They are an active, social breed that loves spending time outdoors with their pack.  Like with all dogs, no matter their size, you should accumulate your papillon to hiking slowly, over time.  Don't expect them to be amazing outdoors dogs their first time out.  Work your way up, slowly, to longer and more challenging hikes.  Be especially cautious if your dog, papillon or otherwise, is very young or old. 
Hiking with My Papillon, Kitsune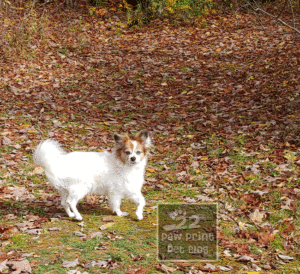 Throughout his life, my papillon has been an amazing hiking partner!  I really couldn't have asked for a better little adventure dog.  He's respectful and calm around other people, dogs, and wildlife we come across on the trail.  When he was a puppy, I spent a lot of time socializing him around both people and animals.  He's always been especially amazing at finding the safest route down even the roughest of trails.  A lot of times, during hikes, I'll let Kitsune lead the way and follow behind him.  He's better than I am at picking the safest/easiest spots to walk on a trail!
I never worry about getting lost in the woods when I have Kitsune with me.  While we're hiking, I can tell Kit that it's "time to go home" and he'll lead me back to our car, or to the house if we're exploring the woods around our house.  Noticing how well Kit did at smelling his way back home again during our hikes is what eventually led me to starting nose work with him.
Kitsune is 14 years old now and was recently diagnosed with cervical IVDD.  So, as you can imagine, we've had to put hiking with him on hold while he recovered.  Now that he's a few months out from his diagnosis, we got the ok from his vet to slowly start exercising him again.  We've worked our way up to daily 20 minute walks.  I'm planning on continuing to increase, slowly, the amount of exercise Kitsune gets per day.  We're unsure right now whether or not we'll be able to get back to taking him on long hikes again.  But, for now, we're content with exploring the woods around our house.
My Papillon Never Had Any Issues Keeping Up During Hikes!
People seem to think that small dogs will have issues keeping up during hikes.  I've never, even now that he's a senior and has health concerns, had that issue with Kitsune.  Most of the time, in fact, I find that I'm the one struggling to keep up with my small dogs!
Since owning my papillon, for almost 14 years now, I've met many amazing papillons and their people.  I've met papillons who compete in all dog sports, from agility to weight pull!  And yes, I've met lots of papillons who love hiking.  Papillons, with the proper training, can make amazing little hiking partners!  They are social, sweet, energetic, and, if you find yourself in a bind, small enough to easily carry out of the woods.  I couldn't have asked for a better hiking companion than my papillon, Kitsune.
Comment below!  Do you hike with a small dog?  Tell us about your amazing small adventure dog in the comments below.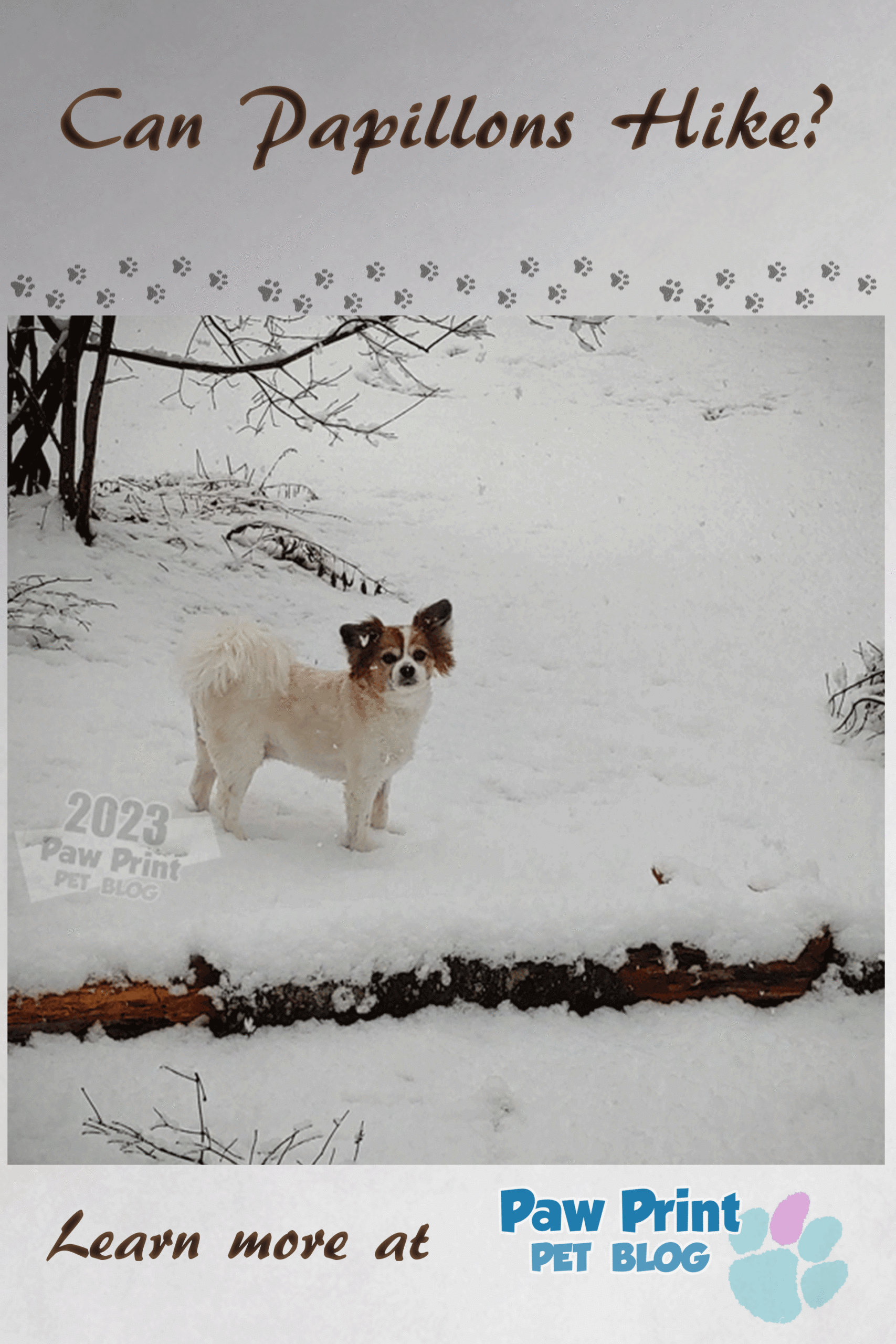 We've, unfortunately, been dealing with content scrapers stealing our articles lately. You shouldn't be seeing this article on any site other than pawprintpetblog.com! If you're reading this article on any other site, we'd love for you to take the time to contact us and let us know and, if you have the time, stop by and visit us on our official site! Thanks you.