I know not everyone is a fan of dressing up dogs.  Hey, I get it!  Most of the time my own dogs, Kitsune and Fenrir, are little nudists.  I do, however, put them in dog clothing once in a while for practical purposes.  The area we live in can get really cold in the winter, and my two little ones refuse to go to the bathroom indoors.  Recently, we've been spending more time getting all bundled up to go outside than we actually spend outside!  It can be hard to find high-quality, functional clothing for small dogs.  There's cute clothing a-plenty, but warm, well-fitting, functional clothing for small dogs seems to be a bit harder to find.  It's frustrating when your best buddy is a little adventure dog!



In this post, I'm going to share my favorite dog clothing brands that I feel work really well for my two small adventure dogs!  I've become quite picky when it comes to buying clothing for my boys.  When it comes to buying clothing for Kit and Fen, I've become somewhat brand loyal, mostly because, over the years, I've found a few brands that really consistently seem to work well for them.
These are things I look for when selecting clothing for my two small dogs…
The "perfect" fit.  I look for clothing brands that have a variety of size options, especially for small dogs.  I like shirts and jackets that cover as much of their backs as possible, to keep them warm, but don't cover up their boy parts for obvious reasons.
Color Options.  Even with functional clothing, it's nice to have color options.  How else am I going to buy Kit and Fen their signature colors?
Easy to Get on and off. Especially now that my oldest dog, Kit, is a senior with some health issues that make me more hesitant to manipulate him in certain ways, dog clothing that is easy to get on and off is really important to me.  Kit has IVDD and arthritis.  I am very aware of not wanting to hurt him by accident by moving his neck or legs in awkward ways to get him into clothing.  Lately, my favorite types of dog clothes have zippers across the back, so I can get them onto my dogs without having to manipulate their legs very much.
Warm! What's the point of putting clothing on your small dogs if not to keep them warm, after all?
Lightweight.  When you have small dogs, I think sometimes getting them clothing and accessories that are light weight can be more important than it would be for other sized dogs.  If we're going cold weather hiking, for example, my dogs will often be wearing a fleece or jacket, their harness, and a collar.  That can add up to a lot of extra, bulky, weight for a small dog if you don't pick your items carefully.
Without further ado, here are my favorite clothing brands for my small dogs!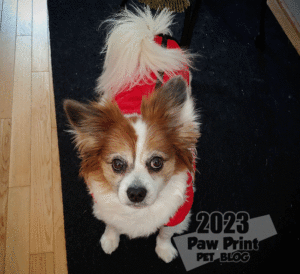 When you see pictures of Kit and Fen wearing clothing on my blog or social media, it's very likely that they're wearing something by Gooby!  Gooby clothing is designed especially for small to medium sized dogs.  I love their sizing.  They have sizes XS to 3XL, but because they are designed for small dogs you can really find the perfect fit for your little ones.  My Kitsune is currently 20 lbs, and Fenrir is 18.  They both currently wear size XL in Gooby clothing.  I have to admit, it still feels really weird to buy my little guys XL sized clothing!  But that size fits them both perfectly.  Plus, I love that Gooby's sizing is so consistent.  XL fits my boys well no matter what Gooby product I buy them.
Gooby dog clothing is stylish and colorful, but functional too.  Some of my favorite items from them currently include their zip up fleece sweater, and their doggy puffer jackets.  But Gooby does sell other styles of clothing, plush things like harnesses and leashes too.  The fleece sweaters are lightweight and comfortable for Kit and Fen.  I'll sometimes have them wear them around the house on cold days.  Lately, since it's been especially cold, my dogs have been rocking their Gooby puffer jackets every time we go outside.  Thankfully, they are super easy to put on and take off, so I'm not spending too much extra time getting the boys dressed to go outside.
Gooby dog clothing is stylish, fits well, keep my dogs warm, is easy to put on and take off, and budget friendly!  What more could I ask for?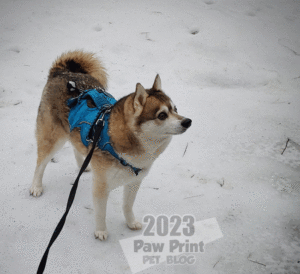 I love the Ruffwear brand of dog products, but they are not as budget friendly as Gooby products are.  I'd for sure have more Ruffwear products if they were cheaper, but I love what we do have.  I'll only use a Ruffwear Webmaster harness for my Alaskan Klee Kai, Fenrir, since he's escaped from other harnesses in the past.  Ruffwear doesn't have as many clothing options as some brands, but I really like their Climate Changer Dog Fleece.  It fits really well underneath my dogs harnesses.  Because it also has a zipper, it's easy to get on and off even my sensitive senior boy.  Ruffwear has a newer Hemp Hound dog sweater that I eventually want to try out too.
I don't have nearly as many Ruffwear products as I do Gooby because of the difference in price.  But, what I do have has been really durable.  Fen had the same Ruffwear harness and fleece since he was young, and I doubt I would have had to replace it still, if it wasn't for the fact that "little" Fen bulked up a bit and needed a larger size.  Ruffwear comes in sizes XX-Small to XL.  Kit and Fen both wear size X-Small across Ruffwear products.
Ruffwear is more of a rugged, adventure dog themed brand.  It's nice to have a brand like that that has sizing that fits even small dogs well.  I wish they had more color options, and their clothing is expensive.  But they are high-quality, durable, fit my dogs well, and keep my dogs warm.  I love this brand for taking my littles on adventures, because I know I can really depend on the durability of Ruffwear products.  That's important when you're out in the wilderness!
There You Have It, My Two Favorite Clothing Brands for My Small Dogs!
Because of the price difference, I tend to mostly buy Gooby products for Kit and Fen when it comes to clothing.  Ruffwear is more of my go-to for things like harnesses, leashes, and lifejackets.  I know Ruffwear is expensive but, so far, nothing I've purchased from them has ever needed to be replaced due to damage.  I feel like their durability kind of makes up for the price.  I've found them to have good resale value too, in case your dog outgrows them.  I was able to sell the Ruffwear fleece and harness that Fenrir outgrew on eBay for a decent amount of money.
The Gooby dog products are awesome for small dogs, especially if you're looking for something more budget friendly.  I had one fleece from Gooby rip once but it was Fenrir's puppy fleece, and he got a ton of use out of it before we needed to replace it.  Gooby comes in lots of  color and multiple style options.  Both brands keep my dogs warm, even in super cold weather, without being overly heavy.  They have options with zippers that make them easy to get on and off my dogs.  And they fit my little boy dogs really well.
Comment below!  I'm always open to trying new products if anyone has a dog clothing brand they'd recommend for smaller dogs.  Do you dress your dogs up, either to deal with cold weather or for other reasons?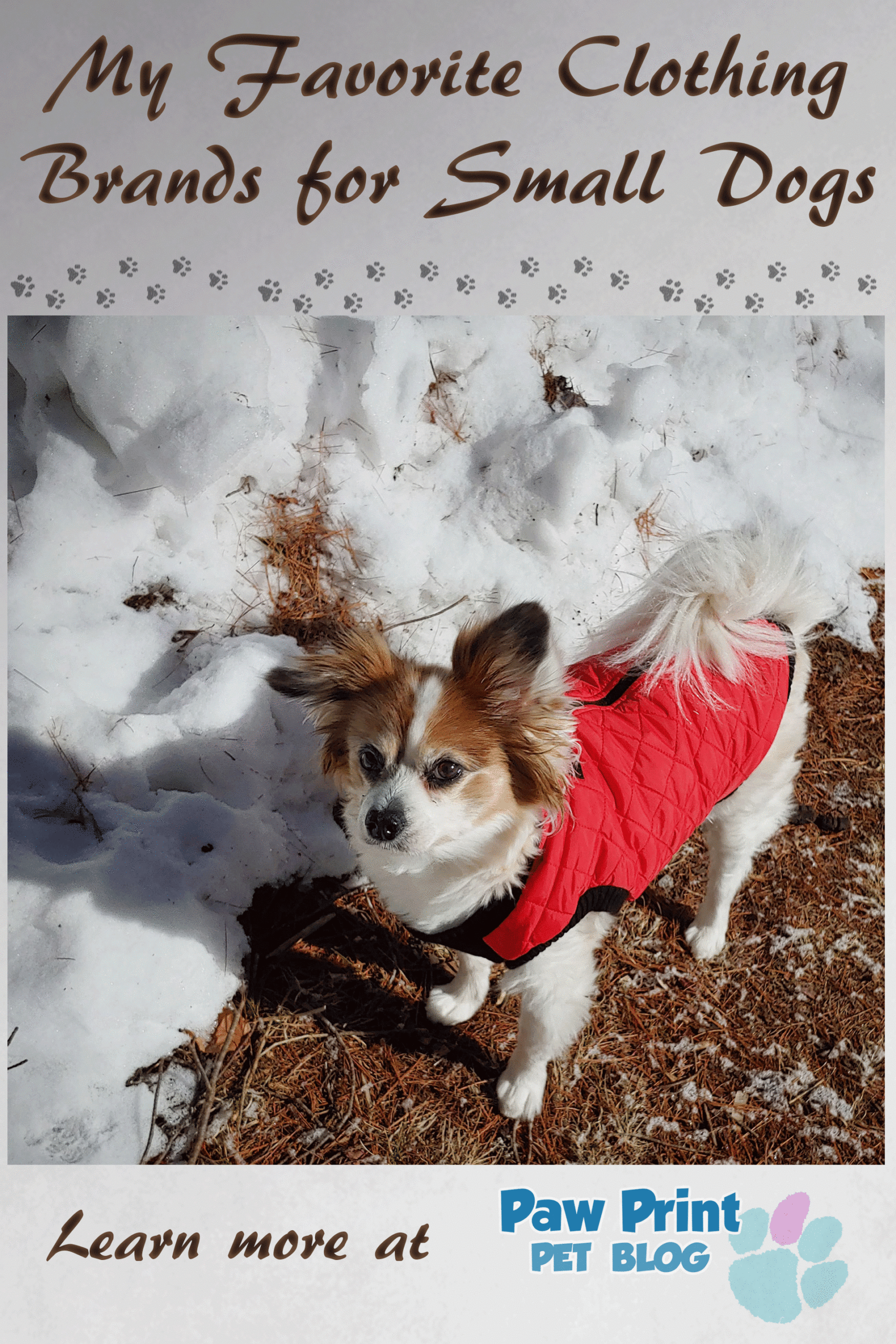 We've, unfortunately, been dealing with content scrapers stealing our articles lately. You shouldn't be seeing this article on any site other than pawprintpetblog.com! If you're reading this article on any other site, we'd love for you to take the time to contact us and let us know and, if you have the time, stop by and visit us on our official site! Thanks you.